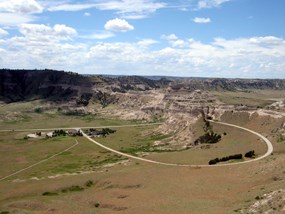 The South Overlook provides a view of Mitchell Pass, remnants of the Oregon Trail, and the Oregon Trail Museum and Visitor Center.
Length: 0.4 miles
Surface: Asphalt
Difficulty: Easy
Access: The South Overlook Trailhead can be found at the south end of the summit parking lot.
Due to time and energy, few pioneers are thought to have climbed to the summit of Scotts Bluff for the view. By the time the wagons reached the bluff, they had traveled one third of the 2,170 mile trip to Oregon. The bluff symbolized a new phase of the journey, leaving the plains and getting into the mountains. Today, from the South Overlook you can see the route the pioneers took through Mitchell Pass. You can also clearly see four of the five rock formations of Scotts Bluff. Crown Rock, Dome Rock, Eagle Rock, and Saddle Rock can all be seen from the South Overlook. The remaining rock formation is Sentinel Rock, which is blocked from view at the overlook by Eagle Rock.