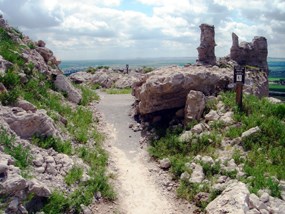 The Saddle Rock Trail runs from the Visitor Center to the summit of Scotts Bluff and includes a foot tunnel.
Length: 1.6 miles (2.6 kilometers), one way
Surface: Asphalt
Difficulty: Strenuous, with an elevation change of 435 feet (133 meters).
Access: Trailhead is located to the east of the Visitor Center. The trail may be hiked one way by using the Summit Shuttle.
Imagine hiking on Scotts Bluff's most popular trail and running into a regular who hikes the trail daily for exercise - or perhaps members of a local high school cross country team training for an upcoming meet.
Though hiking the paved trail could be considered a workout, a majority of the hikers simply do it to experience the environment – to see and count the geological layers of the bluff, or even to see the needle and thread grass or the mysterious spiderwort flower.
Others want to see the soaring raptors or the western box turtle slowly crawling on the prairie.
Still others use the trail to walk through the foot tunnel dug as a test prior to the Summit Road's vehicular tunnels in 1933.
These are all possible by hiking the Saddle Rock Trail. Hike both ways, or use the Summit Shuttle and hike only one direction.
The first one-third of the trail from the visitor center is relatively level as you travel across the prairie to Scott's Spring. The spring's namesake is also the monument's: fur trader Hiram Scott.
Legends tell of his remains being found near this location in the spring of 1828. Scott was believed to have either been abandoned or voluntarily left behind by fellow trappers as he could not walk. The spring is fed by a natural "cistern" that collects rain and snowmelt from the bluff and releases it to the surface.