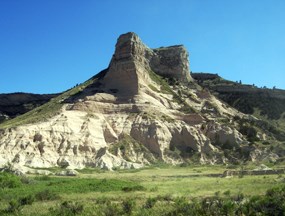 The Scotts Bluff National Monument's Presidential Proclamation states that Scotts Bluff has "scientific interest ... from a geologic standpoint." The scientific interest of this site has been apparent since the late 1890s when the U.S. Geological Survey made the first formal geologic investigation of the area. Geologic publications relating to Scotts Bluff number at least nine and the area continues to be the subject of investigation. Although it appears the geology of Scotts Bluff has been well studied, the statement in the proclamation helps focus on one of the primary natural resources of the Monument, its geology.
Scotts Bluff is a topographic feature rising to 4,659 feet above sea level and 800 feet above the North Platte River. The geology of Scotts Bluff is significant from a natural resource standpoint because it affords a view of 740 feet of continuous geologic strata that spans a time period extending from 33 to 22 million years before present. This north face of Scotts Bluff has exposed the most geologic history of any location in the state of Nebraska. Visitors can easily view this resource while walking the Saddle Rock Trail.
Scotts Bluff, like the adjoining Wildcat Hills and nearby Chimney Rock, Courthouse and Jail Rock, has been and continues to be weathered out of geologic deposits of alluvial origin that made up the ancient high plains of the region prior to regional uplifting. Wind and stream deposits of sand and mud, wind deposits of volcanic ash, and supersaturated groundwater rich in lime formed the layers of sandstone, siltstone, volcanic ash and limestone that now comprise Scotts Bluff's steep elevation, ridges, and the broad alluvial fans at its base. The high plains that existed at that time now began to gradually erode away, except at certain locations that were protected by a caprock of hard limestone that was more resistant to erosion. This caprock covers the tops of the bluffs in the area, slowing their rate of erosion relative to the unprotected surrounding (and eroded) countryside. This process resulted in the area's unique geologic features, such as Scotts Bluff. Erosion is usually unseen by humans, as wind, rain, and snow slowly wash away grains and particles of sand, silt and ash. However, erosion can occur as sudden, large rock falls as happened in 1974 and 2000 in the area of Saddle Rock. Smaller rockfalls are visible along the Summit Road. A badlands formation is located between the north base Scotts Bluff and the North Platte River, where deeply incised arroyos support little or no vegetation.