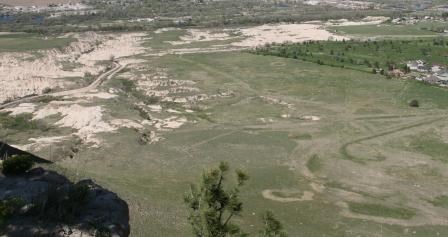 Approximately 535 acres of the Monument have suffered some sort of disturbance in the past. Some of these disturbances have been severe. There have been two golf courses, cattle feedlots, a hog farm operation, irrigated and dry land fields, houses and other structures of one kind or another, and an open clay quarry pit. When the National Park Service purchased these tracts of privately owned land, the service apparently had only enough funds to demolish buildings, fence the properties, and perhaps seed the areas with varying amounts of native-grass seed. The seed mixture was purchased without much thought as to matching the natural vegetation in the relatively untouched areas of the Monument. These attempts at restoration were not very successful. Today prairie restoration is a high priority for management. Each restoration unit at Scotts Bluff is unique, as are the individual plans of restoring them.
Mistakes made in the past were only multiplied by time as exotic, non-native vegetation became established and the previously seeded areas are not in communion with the native vegetation of the Monument. The Nebraska Environmental Trust Fund (NETF) has funded two prairie restoration projects at Scotts Bluff National Monument and one at Agate Fossil Beds National Monument for a total of $181,064.02. These include the restoration of the site of the Scotts Bluff Country Club, removal of the largest dumpsite within the Monument, the restoration of a previously irrigated field at Agate Fossil Beds National Monument, and the continued research into the propagation of the native plant, blackroot sedge and transplanting it into these restored areas. The NETF has been very generous in their financial support of the Monuments as has the University of Nebraska - Lincoln, which researches, propagates, and transplants blackroot sedge. These projects could not have been accomplished without the additional assistance from the Oregon Trail Community Foundation.
Today three irrigation canals and a state highway cross the Monument. They all require maintenance by their respective agencies, which continuously keeps the vegetation in turmoil and native vegetation suppressed. These highly managed corridors of today will be the disturbed areas to restore in the future.