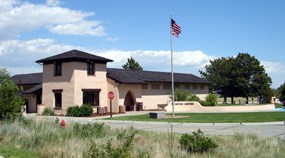 A national historic structure, the Oregon Trail Museum and Visitor Center was built in phases from 1935 - 1949.
Consisting of three rooms, the museum includes the History Room - comprising of exhibits of America's westward expansion and a book and gift sales area; the William Henry Jackson Room dedicated to the display of Jackson's drawings and paintings; and the Landmark Room displaying the geologic and paleontological history of the area.
The Landmark Room room also includes a theater where a twelve-minute slide presentation is shown on the Oregon Trail featuring many of Jackson's paintings.