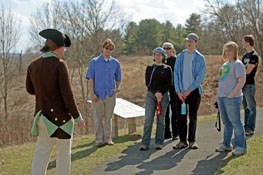 Official Saratoga Battlefield Guide (OSBG) Program
On pastoral fields and gently rolling hills above the Hudson River, two hotly contested Revolutionary War battles fought here ended in an American victory so momentous that it is known as one of the most important in world history.
You can now experience a personally guided caravan tour of Saratoga Battlefield with an Official Saratoga Battlefield Guide. Trained by National Park Service staff, these knowledgeable and courteous guides are available for hire with tours to fit your schedule and interest.
Official Saratoga Battlefield Guides are independent contractors who are paid a fee for their programs by visitors. The guides are authorized by the Park through a Commercial Use Agreement.
Tour length: 2½ to 4 hours
Schedule of fees: 1 - 10 people: $80
—Each additional person $8.00
Tour availability: By advance reservation.
To contact our Official Saratoga Battlefield Guides and arrange a tour: