Traveling Trunk
Traveling Haversack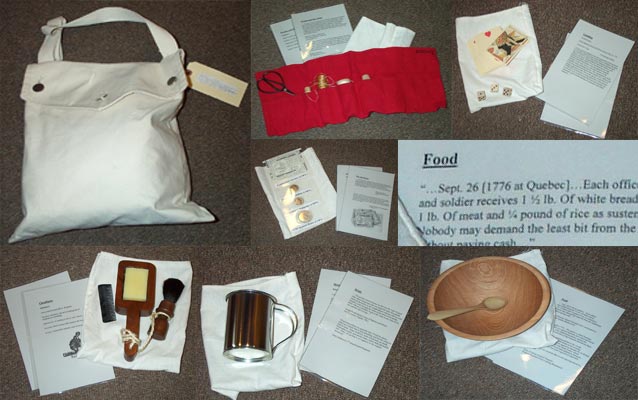 The Traveling Haversack Kit contains a Teacher's Guide and six different "Discovery Bag" activities.  Each small group bag contains a reproduced artifact as a manipulative to introduce a particular theme for participants in the Revolutionary War: food, drink, cleanliness, entertainment, women's roles, and money.  While women were, almost without exception, not combatants in the war, as "camp followers" they did fulfill important roles for an army, including sewing, laundry, and assisting in providing care for sick and injured soldiers. 
Each Discovery Bag also contains a laminated card with vocabulary words, primary source materials in the form of quotes or citations from people in the Revolutionary War, and questions for students to answer based on all the materials provided.
Borrowing Instructions
 Schools within the WSWHE BOCES network (Washington, Saratoga, Warren, Hamilton, Essex Counties of New York State) can request a loan of the Traveling Haversack by contacting the WSWHE BOCES Multimedia Services office at 518-581-37340 or 746-3730, or by e-mailing their office. The BOCES item number for this product is "051776".
If you are not part of this BOCES network, you can assemble your own Haversack Kit with ease!  You'll just need a few items:
1) A downloadable copy of the Teacher's Guide (PDF document, 406 kb);
2) A list of the required items (PDF document, 24 kb) --NOTE: item sources other than those listed in the document do exist, and please be aware that item prices may vary from those listed;
3) Lamination equipment, or self-adhesive lamination pouches for the Discovery Bag cards;
4) Time to assemble and familiarize yourself with the kit --with a sewing machine and cloth for the Discovery Kit bags on hand, probably half a day.
Details
Subject:

Colonial History, Family Life, Government, Health, Military and Wartime History, Reading, Recreation / Leisure / Tourism, Revolutionary War, Science and Technology, Social Studies, Women's History, Writing

National/State Standards:

NYS:
Gr. 4: War in NYS
Gr. 7: Un.2, Sec.3, Con.C; Un.3, Sec.2, Con.B; Sec.3, Con.A; Sec.4, Con.A,C
NYSED Social Studies Standards:
1,2,5
US Social Studies Standards:
Gr. 4: 2 A,B; 3 D; 4 A,B,E; 6 A; 7 A; 8 A,B
Gr. 5,7,8: Era 2 St 2 C; Era 3 St 1 C; 2 B

Keywords:

Revolutionary War, military history, history, social studies, women's history, technology, health, recreation, reading, writing

type:

Traveling Trunk
Last updated: February 26, 2015