Monthly Theme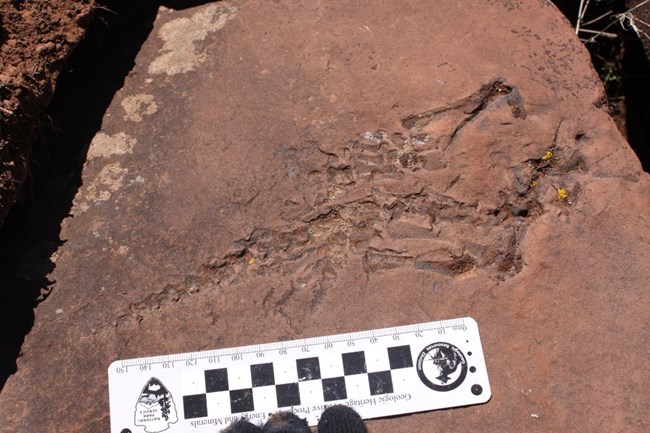 National Fossil Day
In celebration of National Fossil Day on October 13, 2021 we would like to share a photo of a body fossil that was discovered at Salinas Pueblo Missions.

Paleontology previously understood with Salinas Pueblo Missions has long been associated with cultural artifacts of the Pueblo people and the Spanish Missionaries. But what is less known is the history of the area as it was 280 million years ago when there was only a single continent called Pangea and New Mexico was equatorial---a tropical paradise.

The Paleontology at Salinas Pueblo Missions National Monument consists of vertebrate and invertebrate trace fossils as well as plant fossils and very rare vertebrate body fossils.

National Fossil Day is a celebration of the fossil record. It is a part of our history, the record of how life on Earth has changed.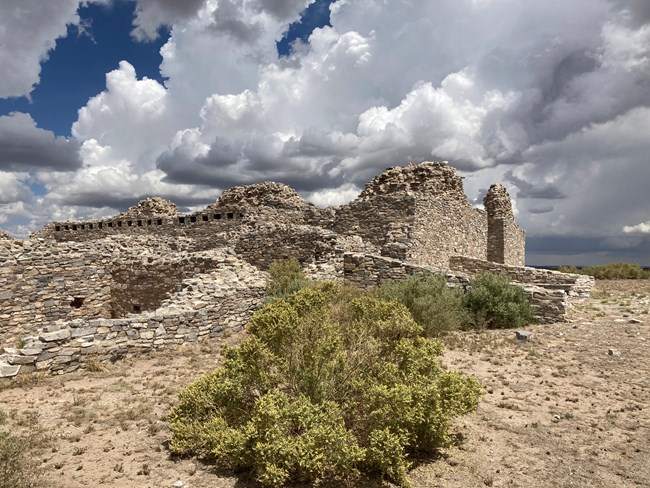 International Archaeology Day
October 16 is International Archaeology Day!
Salinas Pueblo Missions National Monument has some of the earliest archaeological records in the National Park Service – even before there was a National Park Service! The monument was originally Gran Quivira National Monument, established November 4, 1909 by President William Howard Taft until it was merged with the state sites of Abó and Quarai in the last days of 1980. Even before 1909, there was interest in the archaeology of Abó, Gran Quivira and Quarai with the arrival of famed anthropologist Adolphe Bandelier, who documented the sites in December of 1881 to January 1882. Even before Bandelier, there are many accounts of explorers marveling at the ruins. But full-blown archaeological research at the monument started with Edgar Lee Hewett in 1913 at Quarai under the School of American Archaeology, which he founded in 1907 with Alice Cunningham Fletcher. It wasn't until 1923 that Hewett began excavations in the east plaza of Gran Quivira, and by 1927, Hewett was finishing up with the excavation of the Mission church and convento of San Buenaventura. Hewett's greater claim to fame was as author of the Antiquities Act of 1906, which is the legislative piece authorizing the President to create National Monuments that still exists today. The School of American Archaeology (later the School of American Research and then the School of Advanced Research) fostered the careers of many of the southwest's best known archaeologists, such as Neil Judd, Alfred Kidder and Jesse Nussbaum, among others. Archaeologists and other researchers that assisted and learned from Hewett at Gran Quivira were Odd Halseth, Lansing Bloom, Anna Shepard, Fred Kabotie and Sam Hudelson among others. One particularly colorful figure who also worked on the excavations with Hewett was Frank "Boss" Pinkley, superintendent of the Southwest National Monuments of the National Park Service. Pinkley said of the Gran Quivira project, "The work of clearing the debris out of the mission began on the morning of the 16th and continued until the night of the 21st. It was a straight job of moving dirt and rock, it was not necessary to sift it or examine it closely for artifacts. This being the case, as many men and teams as could work without interference were put on the job and it was rushed through, so far as the money could carry it, in a few days. It was by no means enough money to complete the cleaning of the mission and the complex of rooms adjoining the mission had to be left practically untouched. Let us hope that future appropriations will allow us to continue this work a little at a time year after year until real results can be shown at this very interesting monument."

Archaeological investigations at the monuments were extensive and varied through the years. Beginning in the 1930's, Quarai became the focus of attention with the arrival of archaeologists Sam and Paul Hudelson, Donovan Senter, Albert Grim Ely, Ele Baker, and then Wesley R. Hurt in 1939-40. Hurt's excavations were widespread across the Mission church and convento and was plagued with unusually heavy rain and flooding. But Hurt also documented an unexpected find – the remains of a pleistocene mammoth! Work was also beginning at Abó in 1938, with the appointment of Joseph H. Toulouse by Edgar Hewett to direct excavations and stabilization of the ruins. Shortly after completing his work at Abó, Toulouse would become the 3rd custodian (superintendent) of Gran Quivira. Albert Ely returned to Quarai in 1944 and again in 1958, Stanley Stubbs in 1959, and then Timothy and Linda Valder in 1972.

The ensuing years saw more sporadic archaeological work, to include another of Hewett's protégé's, Bertha Dutton, who excavated at Abó in 1944. Other excavations at Abó include Ray Ghent in 1958, Stuart Baldwin in 1982, Jim Trott and Susan Kreger in 1984, and James Ivey in 1986. Later excavations and research at Quarai were led by Katherine Spielman of the University of Iowa, and then Arizona State University, in the 1980's. Spielman also conducted research at Gran Quivira in the same decade, and many of Dr. Spielman's students returned in later years in some capacity, to include Kathryn Leonard, now the Arizona State Historic Preservation Officer. Our current Superintendent, archaeologist Lisa Baldwin, is also a former student of Dr. Spielman!

At Gran Quivira, Joseph Toulouse performed some small excavations in the San Isidro church, and then in 1951, Gordon Vivian excavated the entire San Isidro church complex, a pueblo house-mound and an adjacent Kiva, with the help of a Navajo crew from the NPS Ruins Stabilization Unit along with local residents. The last major excavation was led by Alden Hayes beginning in 1965 with the excavation of the large multi-room Mound 7 house block. Hayes continued work into 1968 with a large group of archaeologists, researchers, artists, local ranchers and others.

Many of the names mentioned here are NPS archaeologists and there are many more not mentioned. But they all showed, and continue to show, a deep interest and appreciation for the architectural remains, material culture, and history of the archaeological resources that make up Salinas Pueblo Missions National Monument! And while the National Park Service no longer promotes large scale excavations, new information comes to light in other ways and there is always a dynamic for change as new research continues to unfold the shadows of history into the light of knowledge and understanding. Archaeology at the Monument will continue its legacy to preserve these places for everyone to enjoy, learn about its history, and marvel at the ruins and beautiful landscapes surrounding them. As "Boss" Pinkley also said, "Gran Quivira did well, I think, seeing how far it is off the main traveled road, to draw 287 visitors in January. If you had driven in over that last 27 miles in bad weather you would understand how badly those people wanted to see the ruins." This is a grand testimony on the importance of the archaeological resources of the Salinas Pueblo Missions to the American public and many others around the world.
Last updated: October 14, 2021