Annual Spiritual Healing Run-Walk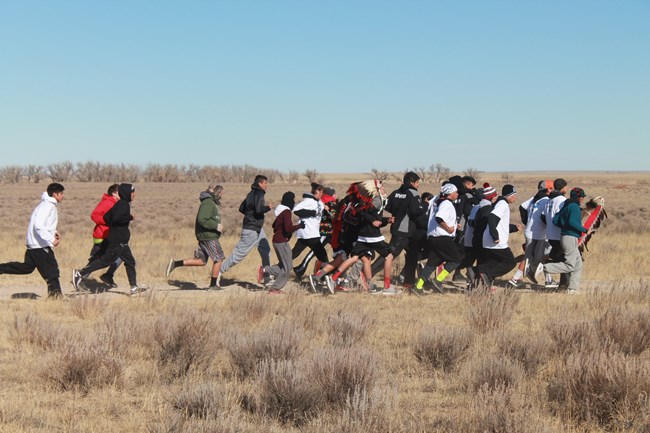 The Annual Spiritual Healing Run/Walk Event
Annual Sand Creek Massacre Spiritual Healing Run/Walk
Imagine running from Sand Creek to Denver! Cheyenne and Arapaho runners do this every year. The Sand Creek Spiritual Healing Run takes place annually in late November commemorating those who were killed during the Sand Creek Massacre. The event, begun in 1999 by Lee Lone Bear, a Northern Cheyenne descendant of massacre survivors, not only remembers the victims of the massacre, but also seeks healing for all people, regardless of ethnicity, race, or religion. In this way, the Sand Creek Spiritual Healing Run is for everyone.

The 173-mile run represents the route used by soldiers, when returning to Denver, after massacring 230 Cheyenne and Arapaho at Sand Creek. Troops of the 3rd Regiment, Colorado (US) Volunteer Cavalry, sported "trophies" from their slaughter, as they paraded through downtown Denver on December 22, 1864.

Beginning at Sand Creek Massacre National Historic Site, Cheyenne, Arapaho, and other participants run in relays from southeastern Colorado to Denver. At the intersection of 15th and Arapaho Streets in downtown Denver, the runners pause to honor the memory of Captain Silas S. Soule, who was gunned down there in
1865. From there, participants and spectators alike walk to the west steps of the Colorado State Capitol, where tributes and commemoration ceremonies by state dignitaries, tribal leaders and elders take place. The audience for the event include tribal family members, descendants of Soule and Govenor John Evans, members of the general public, and representatives of the National Park Service.

The annual Sand Creek Spiritual Healing Run is open to everyone. The event is coordinated by the Northern Cheyenne Tribe of Montana in partnership with the Northern Arapaho Tribe of Wyoming and the Southern Cheyenne and Arapaho Tribes of Oklahoma. In a bygone era, the Cheyenne and Arapaho called portions of Colorado home. Today, for four or five days every November, they return to their former tribal homelands to honor and remember their ancestors and to ask the spirits for healing for all peoples.
Last updated: November 21, 2019