August Proclamation and the Third Colorado Cavalry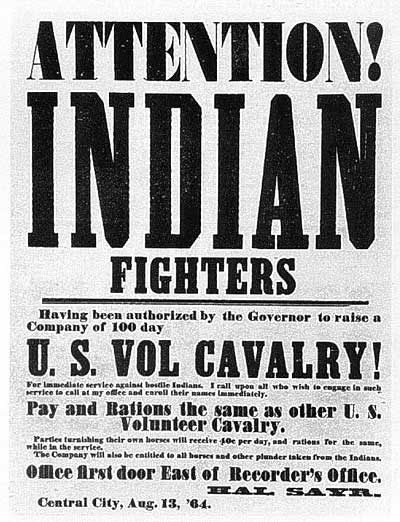 Sand Creek Massacre News Release
August 1, 2014
For Immediate Release
Eric Sainio, 719-729-3003
The August Proclamation and the Third Colorado Cavalry
This article is part of a series by the National Park Service concerning the 150th Anniversary of the Sand Creek Massacre.
As war between Volunteer U.S. Army units and the Cheyenne and Arapaho swept the High Plains in 1864, Territorial Governor John Evans sought public support for his war efforts. Although his June Proclamation asked peaceful Indians to report to U.S. Army forts, most Cheyenne and Arapaho had just received that message before he offered a new declaration to the settlers in Colorado.
The August 11 proclamation stated that Evans authorized the citizens of Colorado "to kill and destroy, as enemies of the country… all hostile Indians." This edict argued that peaceful Plains Indians had received sufficient time to report to the forts; therefore independent citizens were justified in attacking hostile Indians and seizing goods from them.
On the same day, Evans received word from General Curtis and the U.S. War Department authorizing the creation of a regiment for a hundred days to pursue the war effort. Evans intended for these Third Regiment men to secure peace and safety on the Plains in U.S. Army uniforms. In conjunction with Evans' proclamation, recruiting posters offered federal pay, food, and "horses and other plunder taken from the Indians."
As a consequence of these actions, war on the Plains continued even as peace chiefs sought a way to negotiate with Colorado's leadership. Soon, elements of the First and Third Regiments attacked Sand Creek's peaceful village, killing women and children, poisoning relations, and destroying the peace process for years.
To find out more about John Evans' August Proclamation and the Third Colorado Cavalry, go to www.nps.gov/sand or visit the Sand Creek Massacre National Historic Site outside of Eads, Colorado.
Last updated: April 4, 2020