Guided Tour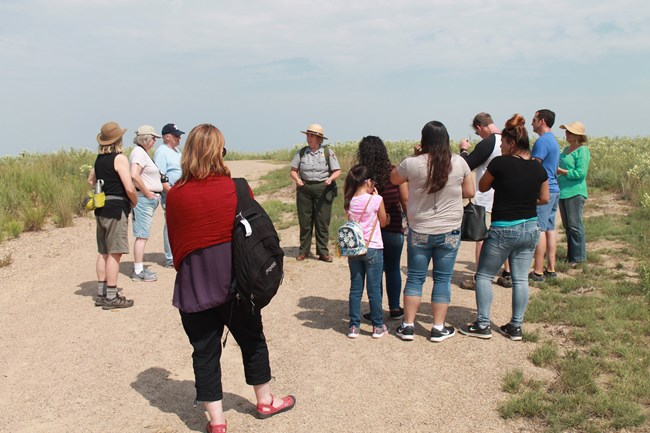 This guided ranger-led activity begins in the picnic area and follows the Monument Hill Walking Trail to the top of Monument Hill, a distance of approximately one-half mile. Preplanned stops along the way allow ranger staff to discuss events leading up to the Sand Creek Massacre. The following topics will be addressed in this program:
The Cheyenne and Arapaho

Sand Creek as a camping site

Influence of white trade with the Plains Tribes

California and Colorado Gold Rushes

The Civil War and its impact on the West

Indian War of 1864

Sand Creek Massacre

Events after the massacre

Events leading up to the formation of the park
With questions and answers, this program generally lasts up to two hours. Educators should plan on a two hour block of time when requesting this program. The guided tour is a staff-intense educational experience and is subject to staff availability. Limitations may apply, please call in advance if you are thinking about requesting this program.





*NOTE: Ranger staff can work with educators to make the guided tour a more immersive experience for students, which can include role-playing and other audience-centered techniques. If educators are interested in this facet of the guided tour, please indicate this when contacting the park in advance and planning your visit. Please note that this additional format can add as much as thirty minutes to two hour guided tour program time.
Last updated: September 20, 2018