Art Installations 2018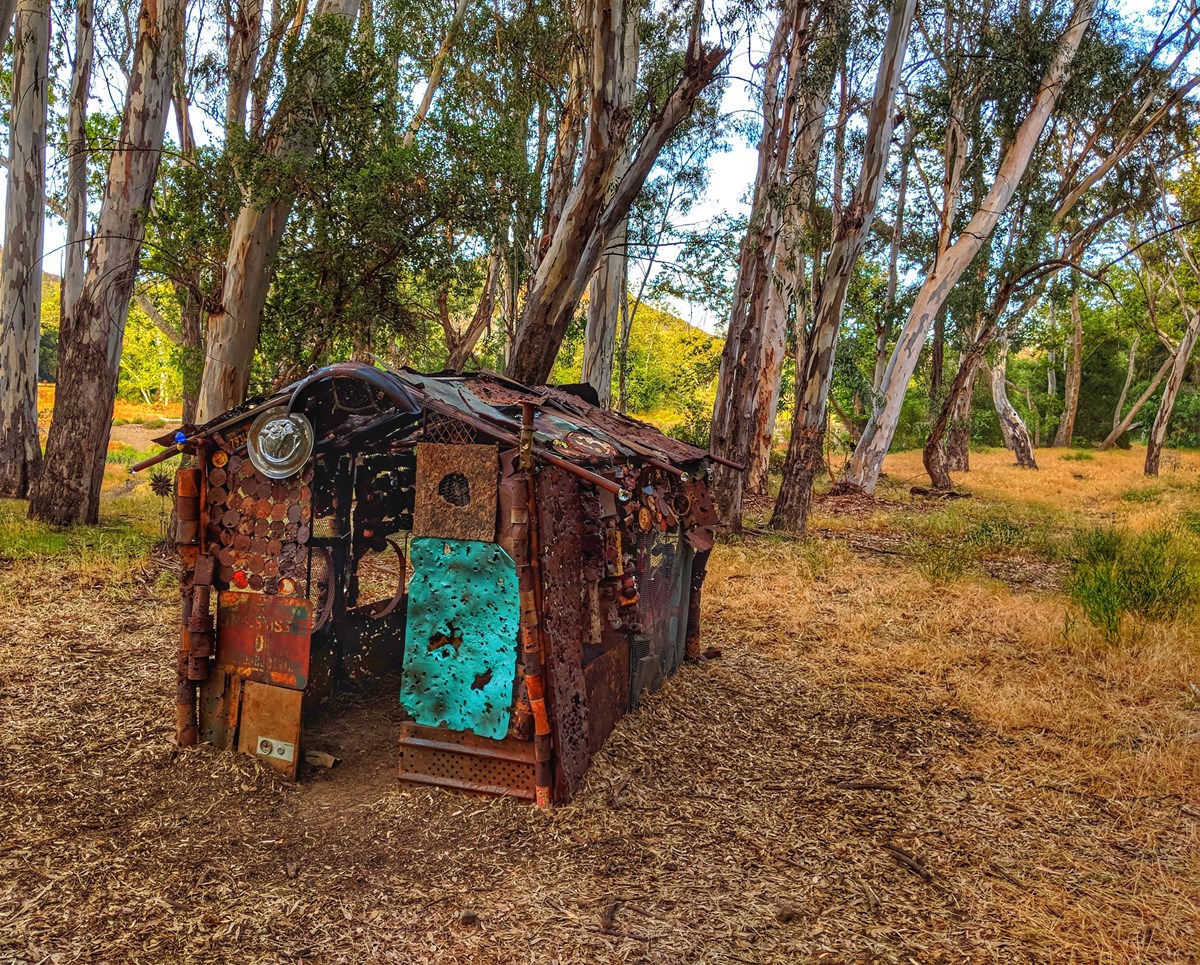 From May 13 to September 8, visitors can walk through the grounds of Peter Strauss Ranch and enjoy the outdoor installation exhibits.
Ben Allanoff
Perch
Woven Arundo Donax Reeds
While building this sculpture, Ben had a few ideas of what it might be. When a couple of bluebirds nesting nearby started perching on the some reeds, he decided to call it Perch. He hopes this sculpture can be a collaboration between the viewer, the artist, and the birds. Your part is to help keep it intact by replacing any reeds that might fall out, and by not pulling or pushing or climbing on it. The birds' part is to rest and enjoy the view and to decorate the sculpture with their colors and songs.
Anna Breininger
My House is the Villa Planted in the Valley
Sprayed Acrylic on Carpet
By taking subjects drawn from nature and entering them into the language of the decorative, Anna's work seeks to "domesticate" the wild. In this way, it shares similarities with previous functions of the grounds as a private zoo and theme park. Of specific importance to the paintings is the idea of kitsch as a democratizing force; one that allows public ownership of aesthetic elements once deemed exclusive. Out-of-focus airbrushed patterns suggest the blurred lines of memory while also calling forth an aspirational scenario not yet in clear view. Fragmented sections of carpet reinforce the shift that happens as the private becomes public and collective memory becomes the main way to access previous iterations of the land.
Cat Chiu Phillips
Plastic Blossoms
Discarded Plastic Grocery Bags
Plastic Blossoms is an "upcycle" sculpture depicting a play between natural and synthetic elements. Similar to the persistence of montane chaparral habitats, the existence of plastic in our environment is prevalent and plentiful. Specifically for this project, discarded plastic grocery bags (plarn) is hand crocheted to form a flower and flora garden native to Peter Strauss Ranch Park. This unusual vegetation depicts an imaginary artificial growth. It asks in our day in age of over-consumption, what if the items that we discard become the material that outgrows and consumes us? It reveals the inevitability of wastefulness as well as our own personal responsibilities.
Ada Ihmels
Spring is in the Air
Wood and Paper Clay
A foreign form can transform a landscape in just a matter of seconds. Ada's work wishes to create a play between the form of the wind chimes, nature and the viewer to create movement of a static object and a play of light and form. Inspired by interchanging realities, our very own personal realities, the cycle of life and the ever-changing seasons in nature. Ada wishes to embrace this concept by creating sculptural objects that are not fixed in themselves, rather moving, casting shadows, and making sounds as they move in the wind.
Joshua Meindertsma
Nobody's Home
Metal
What is remembered and what is ever really forgotten? Ask yourself this as you walk around the installation and notice the materials that make up this home. Recovered while hiking in the South Mountain Preserve in Arizona, these items, left to rot or become target practice, have now been re-purposed to question the value of memory. The privilege we place over remembering certain things and not others.Joshua wishes to dedicate this piece to the memory of Domenic Malvestuto.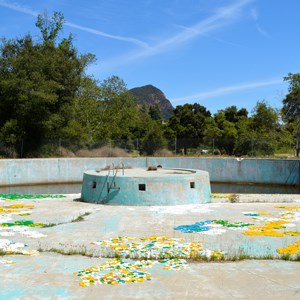 Olga Lah
Variant Depths
Discarded Container Lids
Variant Depths consists of thousands of discarded container lids that lay across the bottom of the aging pool at Peter Strauss Ranch. The work explores the idea of the variant—of sites and objects that alter from its original function and that exist outside its expected use. The pool then has become a scene for a mosaic-like experience of perhaps a watery landscape, plant life or vibrant coloration. It invites the possibility of raising the imaginable in the engagement of our surroundings.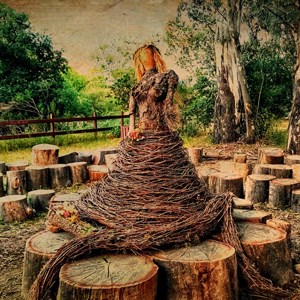 Joy Blanchard
Our Lady of the Roots
Grapevines, Gourds, Grasses,Bark, Beehive, Blooms
Our Lady of the Roots is a joyful expression of the belief that everything in nature has a purpose and placement. As in life, one is never too old to become reborn. So too in nature, elements are continually recycling to form a communion with its surroundings. Old becomes new; scraps become sculpture and hearts are renewed. May Our Lady's spirit bring forth new life, inspire, and fill your heart with joy. Domina radium nostra, adduc nobis vitam.
Last updated: July 5, 2018