News Releases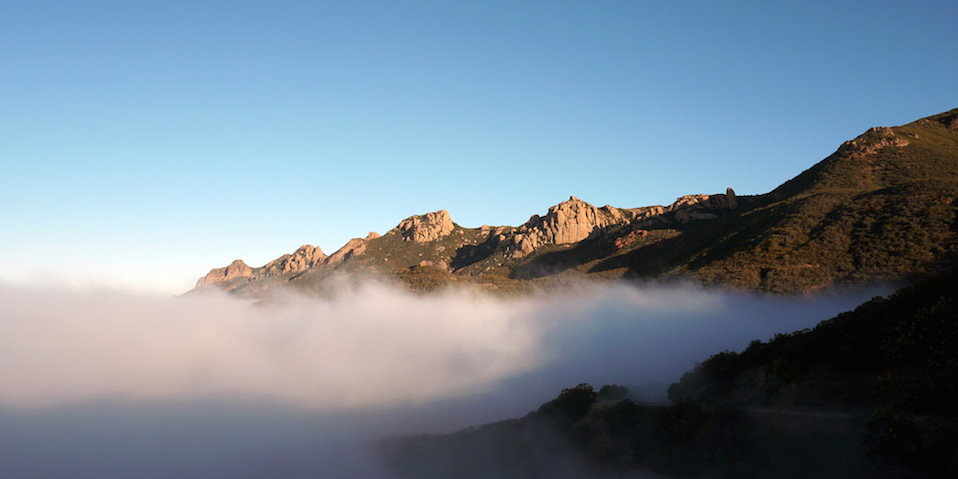 February 23, 2017
Most Solstice Canyon Trails Remain Closed After Storm
The majority of trails at Solstice Canyon will remain temporarily closed after sustaining damage from winter weather last week. However, the popular Solstice Canyon Trail, which takes hikers to the waterfall and the Tropical Terrace ruins, remains open.
February 16, 2017
What are Coyotes Eating? Conejo Valley Locals Sought to Help Analyze Coyote Scat
Over a decade ago, National Park Service researchers collected coyote scat from 14 sites in and around the Conejo Valley. They wanted to understand the diet of local coyotes. Researchers are now going back to those same sites to repeat the study and see what has--or has not--changed.
January 27, 2017
Second Mountain Lion Kitten Struck and Killed by Vehicle Near Simi Valley
THOUSAND OAKS, Calif. -- A young female mountain lion was struck and killed by a vehicle on State Route 118 last week, marking the third time a mountain lion was hit by a vehicle on the same stretch of freeway since December.
January 05, 2017
Statement on Mountain Lion P-52
We are saddened to report that the seven-month-old kitten known as P-52 was recently struck and killed by a vehicle on the 118 Freeway.
December 15, 2016
Mountain Lion Struck and Killed by Vehicle Near Chatsworth
THOUSAND OAKS, Calif. -- National Park Service (NPS) biologists confirmed this week that a mountain lion recently struck and killed by a vehicle on the 118 Freeway was P-39, an adult female with three six-month-old kittens.
December 13, 2016
More than 500 Jobs Available at California's National Parks
Los Angeles, CA – If you ever dreamed of working for the National Park Service, now is the time, with more than 500 seasonal job openings available for the summer of 2017, in over fifteen parks across the state of California. 
November 29, 2016
Statement on Mountain Lion P-45
We extend our condolences to those who have lost a pet or other animal as a result of being preyed upon by native wildlife. This is extremely unfortunate for everyone.
November 28, 2016
Locals (and Their Dogs) Sought for Volunteer Positions
The National Park Service is launching a local effort to recruit volunteers to help out in and around the Santa Monica Mountains starting in 2017.
October 11, 2016
Local Bobcat Appears Recovered from Bout with Mange
THOUSAND OAKS, Calif. -- When National Park Service researchers captured Bobcat 342, known as B-342, back in early July, the four-to-five-year-old male was clearly suffering from mange.
September 14, 2016
National Park Service Seeking Classic Cars for Paramount Ranch Event
THOUSAND OAKS, Calif. -- The National Park Service is looking for owners of classic cars to help celebrate an historic car racing site in the Santa Monica Mountains. The vehicles will be on display at the first-ever Car Corral & Picnic on Saturday, October 1 from 10:00 a.m. until 2:00 p.m. at Paramount Ranch in Agoura.
September 14, 2016
Light Pollution from within SoCal Coastal National Parks Steady or Decreasing
Thousand Oaks, CA - A study published today found that the amount of light pollution produced within Southern California's three coastal National Park Service units has not significantly changed, and in one case has decreased, over the past two decades.
September 07, 2016
Every Kid in a Park Program Returns to the Santa Monica Mountains
LOS ANGELES - Santa Monica Mountains National Recreation Area encourages all fourth graders to visit the park this year as part of the Every Kid in a Park program. The program gives fourth grade students, and those accompanying them, free access to more than 2,000 federally managed lands and waters. Visit www.EveryKidinaPark.gov to download the pass and obtain more information.
August 30, 2016
Local Mountain Lion Population Faces Precipitous Decline in Genetic Diversity Within 50 Years, Possible Extinction
A paper published today in the Proceedings of the Royal Society B found that mountain lions in the Santa Monica Mountains face the possibility of extinction in the near future.
August 04, 2016
Bear Discovered in Malibu Creek State Park
Evidence of a black bear in the Santa Monica Mountains was discovered Tuesday by National Park Service employees. The researchers were reviewing photos from two camera traps set up in Malibu Creek State Park to monitor for wildlife movement and came upon images of the mammal dated July 26.
July 25, 2016
Local Youth Land Summer Jobs Working with the National Park Service
The 22 youths were hired as part of a National Park Service program called SAMO Youth. In addition to providing paid summer employment, the highly selective program introduces high school juniors and seniors to environmental careers through specialized training in the outdoors.
July 14, 2016
Sixth Coyote Tracked as L.A. Urban Coyote Project Marks One Year
A new coyote has been added to the National Park Service's study of L.A.'s urban coyotes. C-149 was outfitted with a GPS collar in early June and is the sixth coyote to be tracked by researchers since the L.A. Urban Coyote Project launched a little over one year ago.
July 06, 2016
Two Litters of Mountain Lion Kittens Born in Local Mountains
National Park Service researchers recently discovered two litters of mountain lion kittens in the eastern Santa Susana Mountains. A total of five kittens, three females and two males, were eartagged and returned to their respective dens earlier this month.
May 26, 2016
67 Miles and 40 Years Later, Backbone Trail Set for Completion
On June 4, a group of partners, including the National Park Service, will officially celebrate the grand opening of the Backbone Trail, a 67-mile trail that stretches from the city of Los Angeles to Ventura County.
May 25, 2016
Deceased Individual Found in Trailhead Parking Lot
A body of an adult male was found in the parking lot of the Newton Canyon Trailhead on Kanan Dume Road in the Santa Monica Mountains on May 25. The cause of death was suspected to be a self-inflicted gunshot wound.
May 11, 2016
Weeklong BioBlitz Coming to the Santa Monica Mountains
A BioBlitz is a quest to discover living organisms through public involvement. During these rapid biological surveys, scientists and volunteers of all ages and backgrounds work together to compile a "snapshot" of biodiversity in a short span of time, in this case, the week of May 16 through May 22.
May 03, 2016
Wanted: Angelenos to Collect Coyote Scat
National Park Service researchers are readying to embark on a new study that focuses in L.A.'s urban areas, from Boyle Heights to Beverly Hills. Do these coyotes, who deal with more concrete, traffic, people, and fewer open spaces, persist on a similar or different diet than coyotes in natural areas?
April 25, 2016
L.A. Area National Parks Benefit Economy
A new National Park Service report for 2015 shows the economic benefit of Channel Islands National Park and Santa Monica Mountains National Recreation Area to the local economy.
March 03, 2016
Rare Frogs Find New Home in California State Parks
VENTURA, Calif. - A rare amphibian that has been lost from 70 percent of its historical range has been given a fighting chance to repopulate on state-protected lands in Los Angeles and Ventura counties.
March 02, 2016
National Park Service Truck Hits Streets of L.A.
As the National Park Service nears its 100th birthday, L.A.'s local national park unit has launched a LA Ranger Troca to bring the parks to people. The truck will rove city streets with rangers from Santa Monica Mountains National Recreation Area to reach the next generation of park goers.
March 01, 2016
Mourning the Loss of Fallen Inmate Wildland Firefighter Shawna Lynn Jones
Shawna Lynn Jones, 22, an L.A. County inmate wildland firefighter, suffered a serious injury during suppression efforts on the Mulholland Fire in Malibu, Calif. on National Park Service land.