P-65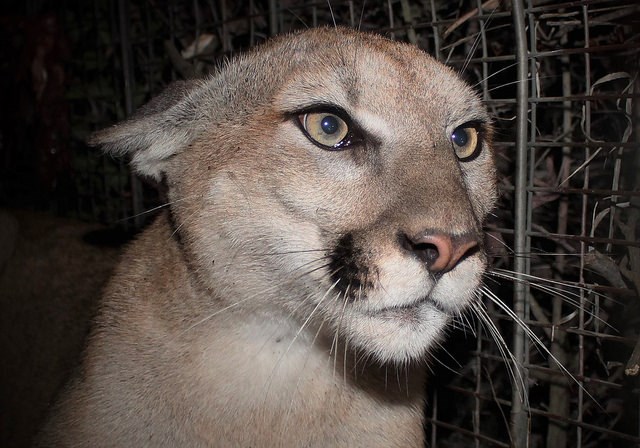 P-65: Coastal Cat
Female | Subadult | Alive
P-65 is a young female that is one of the 11 mountain lions we were tracking that were in or around the fire perimeter when the Woolsey Fire broke out on November 9, 2018. She managed to survive the fire, but her entire home range is within the burn area.

She made history on August 21, 2019 when she became the
second radio-collared female mountain lion to cross the 101 Freeway
moving northward into the Simi Hills. It occurred between the hours of midnight and 2 a.m.

Researchers are not sure exactly where she crossed along the 101, but GPS data indicates it was in the Liberty Canyon area of Agoura Hills where a wildlife bridge has been proposed. She was not picked up on any of our remote cameras monitoring wildlife movement through a culvert or underpass in this area, so biologists believe she most likely ran across the actual roadway. P-65 crossed the freeway once again on November 6, 2019. She is now back in the Santa Monica Mountains.

On July 6, 2020, biologists found P-65's den and tagged three kittens -
P-88
,
P-89
and
P-90
, a female and two males.
P-63
is likely the father. They traveled together for three days in March of 2020. This may also be P-65's first litter.
P-33
is the only other collared female mountain lion to have crossed the 101 Freeway. She trailblazed the way when she crossed the 101 northward into the Simi Hills in March of 2015. This crossing occurred on the far western end of the Santa Monica Mountains, near the border of Thousand Oaks and Camarillo. She eventually made her way to Los Padres National Forest, which is the nearest source population for mountain lions. This marked the first documented and successful dispersal out of the Santa Monica Mountains and into a new home range. Sadly, she died of unknown causes last summer.

P-65 has spent all of her time within the fire perimeter, likely finding unburned portions and opportunities to prey on mule deer in the area. She originally earned the nickname "Coastal Cat" because of her earlier inclination to stick to the coastal areas west of Las Virgenes Road. When our biologist recaptured her to replace her radio-collar, he reported that she looked healthy. She weighed in at 85 lbs.

She was first captured and collared in the central portion of the Santa Monica Mountains in March 2018.
Last updated: October 21, 2020