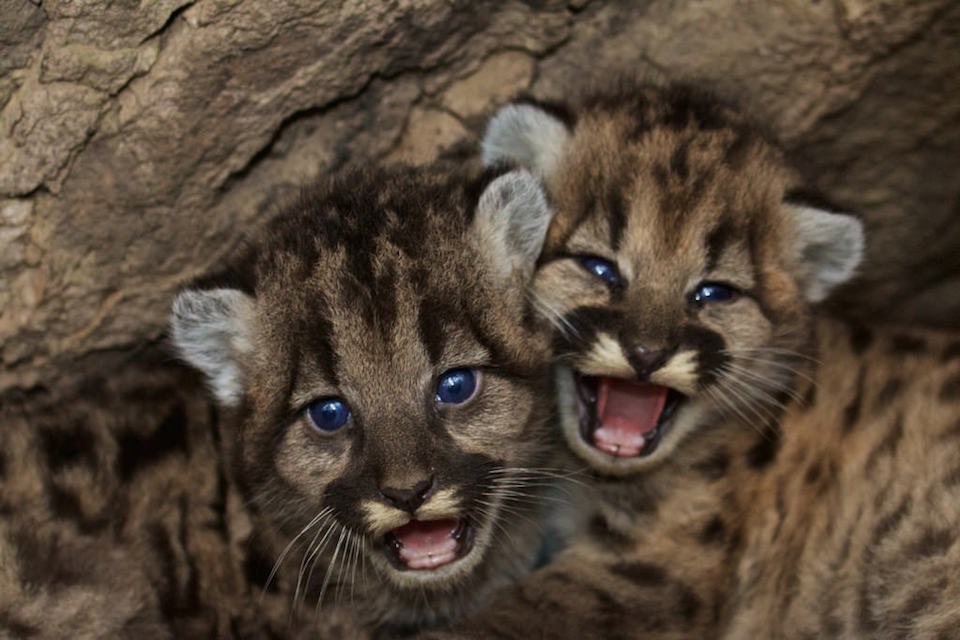 P-46 and P-47
Female and Male | Born November 2015 | Both Alive
The third known litter of P-19 produced at least two kittens, a brother and sister. P-45 is the father. Researchers marked the kittens at around four weeks of age at the den with tracking devices. Monitoring these kittens from a young age will give us further insights into juvenile survival, dispersal, and how lions move through a complex fragmented landscape.

In January of 2017, NPS researchers re-captured P-19 to replace her collar and, that same night, also captured P-47 and outfitted him with a GPS collar. He was 14 months old at the time of his capture and weighed 108 pounds. He was described in the following way by a New Yorker reporter who accompanied the NPS team:

Nose to tail, he was nearly seven feet long, covered in a thick mustardy coat flecked with black. His paws looked as big as a hand spread wide. Bottom heavy, his body tapered to an elegant head with a Greek nose. Under his neck the fur was rabbit-white and soft.

It will be particularly interesting to learn about the dispersal of a juvenile male in the Santa Monica Mountains.

P-46 has not yet been outfitted with a GPS collar, but NPS biologists hope to place a collar on her soon.
Go to P-45 | Back to Puma Profiles homepage | Go to P-48 and P-49