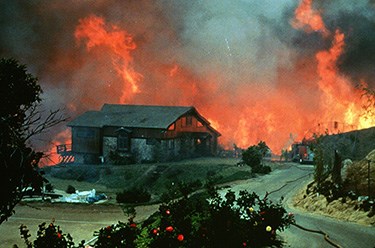 Due to vegetation type, topographic features and weather patterns, many residents of the Santa Monica Mountains will experience a wildfire near their home during their lifetime. It is critical that property owners plan ahead by creating defensible space starting from the "House Out" around their homes and by planning for their safety and welfare when a wildfire occurs.
The "House Out" concept guides the homeowner by starting with the structure itself and working out toward the wildland from there. To read more about the "House Out" concept and to get structure hardening tips download the House Out Guide.
To learn more about the best way to prepare for wildfire read and follow the Ready, Set, Go program endorsed by the Park and your local fire department.
Los Angeles County Residents (12.5 MB- PDF)
Ventura County Residents (811 KB - PDF)