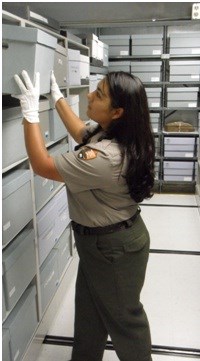 The collections housed at the Museum Research Center at Rocky Oaks contribute to the understanding and interpretation of the park. These collections are directly related to the Santa Monica Mountains and are divided into two major categories: cultural history and natural history.
Cultural History Collections
The purpose of these collections is to increase knowledge and inspiration among present and future generations through exhibits, research, and interpretive programs; support research, resource management, and education; provide baseline data of park cultural resources; document changes these resources are undergoing because of internal park conditions and external effects; and to guarantee the protection of important objects whose in-situ preservation cannot be assured.
The cultural history collections are subdivided into three disciplines: archival, archaeology, and historical.