Traveling Trunk
Struggle and Opportunity: A California Cultural Journey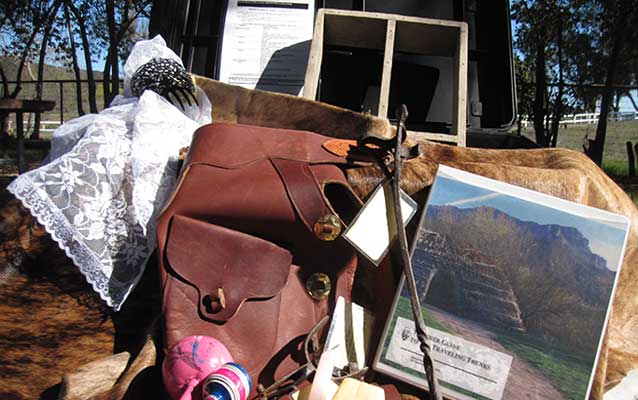 This Cultural Heritage program is a teacher-led traveling trunk program that compares and contrasts past cultural periods that existed in Southern California and in the Santa Monica Mountains area. Students learn the concept and definition of culture and apply this knowledge to Chumash or Gabrielino/Tongva culture (depending on school location), and discover how these cultures changed with the introduction of the 19th century Spanish/Mexican cultures and the mission and rancho periods. This program is especially suited to 4th and 5th grade students. Interested teachers check out one or two trunks from one of 3 locations. One trunk contains Native American material representing Chumash and Gabrielino/Tongva peoples and the other trunk contains material that represents the Spanish influence during the Mission and Rancho periods. The Native American trunk meets curriculum needs for 3rd grade teachers and their students.
Borrowing Instructions
Traveling trunks are available to teachers in Los Angeles and Ventura Counties.
Los Angeles Unified School District teachers may borrow traveling trunks from the Granada Hills Science Materials Center located at 10401 Balboa Blvd., Granada Hills, CA 91344. To make reservations and schedule a pick-up time, contact Lynne Bernstein (lynne.bernstein@lausd.net), Betty Hersh, Nancy Bentov (nancy.bentov@lausd.net), or Robert Sosa (Robert.sosa@lausd.net) at (818) 831-8330.
Ventura County teachers may reserve traveling trunks by e-mailing education rangers at e-mail us.
Trunks can be reserved for up to 4 weeks depending on the number of classes and grade levels using them. Although there is no user fee, each school is responsible for any items damaged or missing from the trunks.
Details
Subject:

American Indian History and Culture, Family Life, Hispanic or Latino American History and Culture, History, Regional Studies, Social Studies

National/State Standards:

California History-Social Science Content Standards 3.3, 4.2, 5.1

type:

Traveling Trunk
Last updated: March 1, 2015