Field Trips
Next Generation Stewards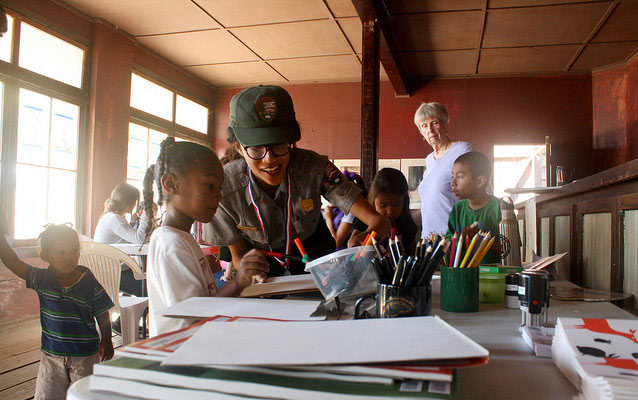 Description
We will begin accepting applications for the upcoming school year starting on June 1, 2015. We will plan on confirming dates starting in August.
Stewardship: the conducting, supervising, or managing of something;especially the careful and responsible management of something entrusted to one's care. Example: Stewardship of natural resources. (Merriam-Webster)
This curriculum-based field trip provides a way for students to make progress toward meeting learning goals connected with NGSS and CCSS. The field trip is also an exercise in civic responsibility, as these students comprise the "next generation stewards" who will help inform land management decisions in our country.
Students participate in activities that explore a hypothetical land management question: Should the National Park Service add a multi-use trail to a pristine landform? They will hike and record observable landforms and lifeforms. They will create a profile sketch of Sugar Loaf Peak, reference contour maps, and assemble a 3-dimensional map of Sugar Loaf Peak. Students will record observations, pair-share, interpret, discuss, and analyze their observations. As an optional post-field trip activity, students will write a letter to a park ranger expressing the "pros" and "cons" related to providing for visitor use (i.e. adding a multi-use trail for visitors to hike, bike, or ride horses on) and resource protection (ensuring that the ecosystem is sufficiently protected from the impacts of visitor use).
[NGSS: MS-ESS3-3, ESS3.C] [Common Core: CCSS.ELA-LITERACY.SL.6.1, CCSS.ELA-LITERACY.SL.6.2, CCSS.ELA-LITERACY.RST.6-8.9]
Keywords
Steward, Stewardship, Topography, Middle School, Land Management, Life Science, Earth Science, Ecology, Geography, Maps, Mapping, Contour, Next Generation Science Standards, NGSS, Common Core, CCSS
We are currently piloting this program and plan to start to take reservations in late fall 2015. 
Contact
Santa Monica Mountains Education Program Staff
805 370-2348
Details
Keywords:

climate change, weather, biodiversity

type:

Field Trips