Hollywood's Movie Mountains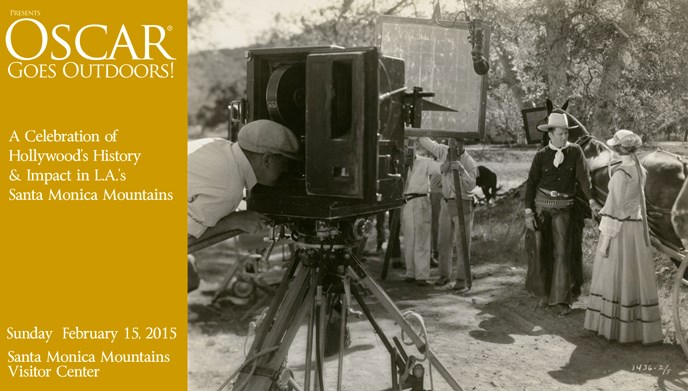 Oscar Goes Outdoors! A Celebration of Hollywood's History & Impact in L.A.'s Santa Monica Mountains
Sunday, February 15, 2015
Santa Monica Mountains Visitor Center
This event is co-sponsored by Western National Parks Association
Program #1 "The Fox That Roared"
What happened when one Hollywood's largest studios bought 2,000 acres in the Santa Monica Mountains? Multitudes of movie magic! The former 20th Century Fox Ranch (now Malibu Creek State Park) was home to Oscar winning epic dramas "How Green Was My Valley" and science fiction classics – the original "Planet of the Apes" and an extraordinary array in between like comedy favorites "Mr. Blandings Builds His Dreamhouse" popular television programs "Daniel Boone", "The Rifleman" and the legendary "M*A*S*H".
Hundreds of hours were shot on the historic Fox Ranch and they live on today in classic film and television programs. And for the first time, you'll hear the story of the Torpin family – the caretakers of Fox Ranch for 30 years and see terrific behind-the-scenes photos from their archives with Fox Ranch historian Brian Rooney.
Presented at 10:00 am and 1:00 pm


Program #2 "Ranching Hollywood Style"
What brought Hollywood's greatest golden age stars to the chaparral hillsides and rolling grasslands of Agoura, CA? How about a 2700 acre movie ranch. Between 1927 and 1946 Paramount Pictures shot dozens of films at the "ranch." From Gary Cooper and Marlene Dietrich in Morocco (1930) to It's a Gift with W.C. Fields (1934) to So Proudly We Hail (1943) with Claudette Colbert and Paulette Goddard. Retired park ranger and film historian Mike Malone will take us back to those bygone days of the Paramount Ranch with a fascinating look at "where movies were made."
Presented at 11:00 am and 2:00 pm


Program #3 "Ridin' the Range to Where Movies Were Made"
Take a visual journey across the valleys and canyons of the Santa Monica Mountains and see where Oscar nominated and award-winning films where shot on location with noted Hollywood historian Marc Wanamaker and retired park ranger / Santa Monica Mountains film historian Mike Malone. Included will be some terrific behind the scenes photos from Hollywood's Golden Age that celebrate historical filmmaking in our Mountains.
Presented at Noon and 3:00 pm
Last updated: August 18, 2015