Public Transportation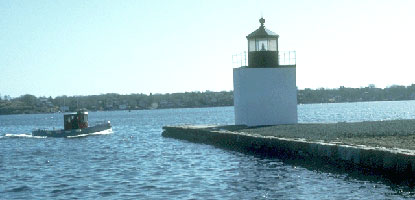 Salem is about half an hour from Boston by public transportation.
By Commuter Rail
By Bus
From the Salem Depot to the Visitor Center
The Visitor Center is about a 5 minute walk from the depot.
Walk up the stairs, and cross Bridge Street at the traffic light. Proceed straight down Washington Street to Church Street (there is a Ben and Jerry's and a bank on opposite sides of the street at the corner)and take a left on Church.
Proceed down Church Street to the Visitor Center on New Liberty Street, past the Museum Place Mall and the Municipal Parking Garage.
By Ferry
From the end of June to the beginning of September, Salem is also accessible from Boston by a high-speed ferry. It is approximately 45 minutes to Salem from Boston by ferry.
For more information about rates and schedules for the Salem Ferry, click here. This link will open in a new window.
The ferry docks at Blaney Street in Salem. It is approximately a five minute walk from the ferry dock to Salem Maritime NHS.
At the corner of Blaney Street and Derby Street, turn left on Derby Street. Salem Maritime is five very short blocks from Blaney Street.