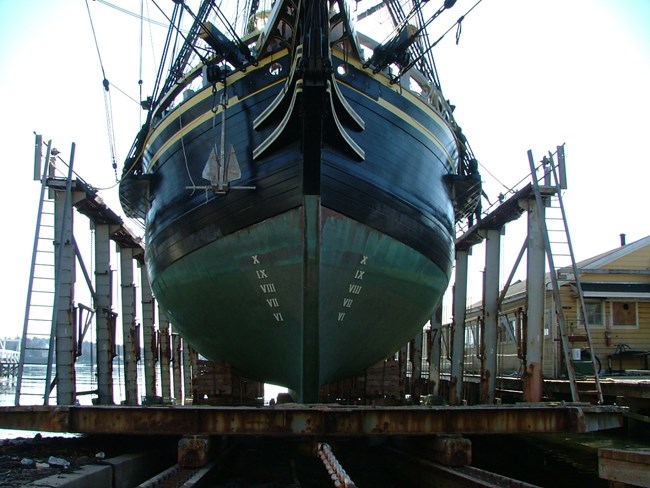 National Park Service Superintendent Patricia S. Trap announced today that Friendship of Salem is sailing home. "It is time to celebrate. Friendship is in the water and if the weather holds, we invite the community to join us Sunday, November 22nd, shortly after 2:30 pm on historic Derby Wharf to wave her home."
Part of the Salem Maritime National Historic Site, Friendship has been under repair at Boothbay Harbor Shipyard since May. She was launched off the marine railway on Thursday, November 19, 2009. Since then, the Friendship crew has been hard at work getting the ship ready to set sail home.
"We plan to depart Boothbay on Saturday, November 21, with an anticipated arrival during high tide on Sunday, November 22nd," confirmed the Chief of the Marine Divison, Colleen Bruce. "Inclement weather can delay her departure and subsequent arrival, so we suggest that anyone interested in welcoming our ship home to first check the park's website(nps.gov/sama)or contact the National Park Service Visitor Center at 978-740-1650," she urged.
To celebrate her arrival, the National Park Service will distribute a free, commemorative handkerchief to the first 75 people. The hankies will be distributed from the National Park Service Orientation Center at 193 Derby Street starting at 1 pm on the day of Friendship's arrival.
In the 18th century, family and friends would gather on the wharf and wave their hankies as a ship arrived home after an extended absence. "Waving the ship into port is both a fitting tribute to her homecoming and a great way to commemorate Salem's rich maritime heritage," stated Trap