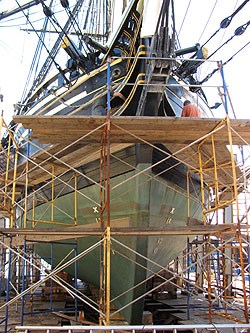 Since May 25, Friendship has been in Boothbay Harbor, ME for a haul-out, when the ship is removed from the water in order to inspect the hull and repair any damage.
Rot was discovered in the bow of the ship during her inspections. Because of extensive repairs to the stem of the ship, Friendship is not anticipated to return to Salem until the fall. In her absence, we are hosting a series of visiting vessels. Click here to find out what vessels are visiting Salem Maritime.
Please check this page often, as we will be updating it to reflect the work being done on Friendship. Updates are provided by John Pyndynkowski, the ship's carpenter for Friendship, with annotations by park historian Emily Murphy.