Be a Bark Ranger
Hello four-legged friends! Do you want to explore Salem Maritime with your leash-holding companions? Weave around the historic buildings, walk out to Derby Light, enjoy Derby Beach, or take in some sunshine on the lawn!
Make sure you follow the B.A.R.K Ranger principles! Once you learn them, you can find a park ranger* and receive your very own Bark Ranger dog tag! Wear it proudly!
*Park rangers offer bark ranger tags during the summer months, usually mid-May through October. However, you can explore Salem Maritime with your dog year-round.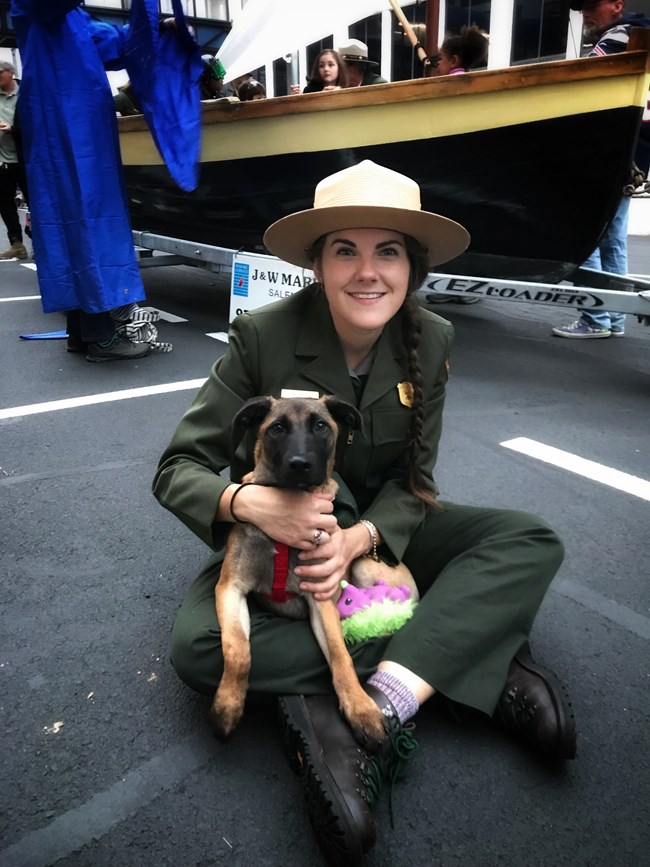 B.A.R.K. Ranger Principles
B = Bag Your Poop
Help keep Salem Maritime clean by collecting and disposing of all dog waste.
A = Always Wear a Leash
Pets must be restrained on a leash no longer than 6 feet (2 m).
R = Respect Wildlife
Dogs can chase and threaten wildlife, scaring birds and other animals from nesting, feeding, and resting sites. Please keep your dog at a respectful distance from any animals you may encounter.
K = Know Where to Go
Pets should not be left unattended. Summer sunshine poses a threat to pets in vehicles.
Last updated: September 2, 2020