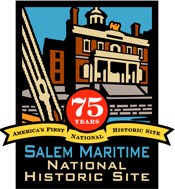 On March 17, 1938 America's first national historic site was dedicated. Created by a Secretarial Order, Salem Maritime National Historic Site would forever protect the maritime resources of Salem's waterfront. The historic buildings, wharves, history and scenery will benefit and provide enjoyment for future generations.
From March 17, 2013, through March 17, 2014, Salem Maritime National Historic Site will be celebrating the site's 75th Anniversary. Special activities, speakers, and events are being coordinated to commemorate the anniversary. Official 75th Anniversary programs and events will be listed on our website. This year also marks the 25th Anniversary of the Salem Maritime Festival which will take place Saturday, August 3, 2013.
Whether you're a regular visitor, a national park traveler, or a virtual explorer, Salem Maritime hopes that our 75th Anniversary will inspire you to experience and connect with the park and its rich cultural and natural history. Walk the site, take a tour, become a Junior Ranger, or just take a moment to take in the sea breeze. Discover the history and nature that will continue to engage visitors and stewards of Salem Maritime National Historic Site for another 75 years!
For more information on Salem Maritime's last 75 years, visit our web page on the History of Salem Maritime.