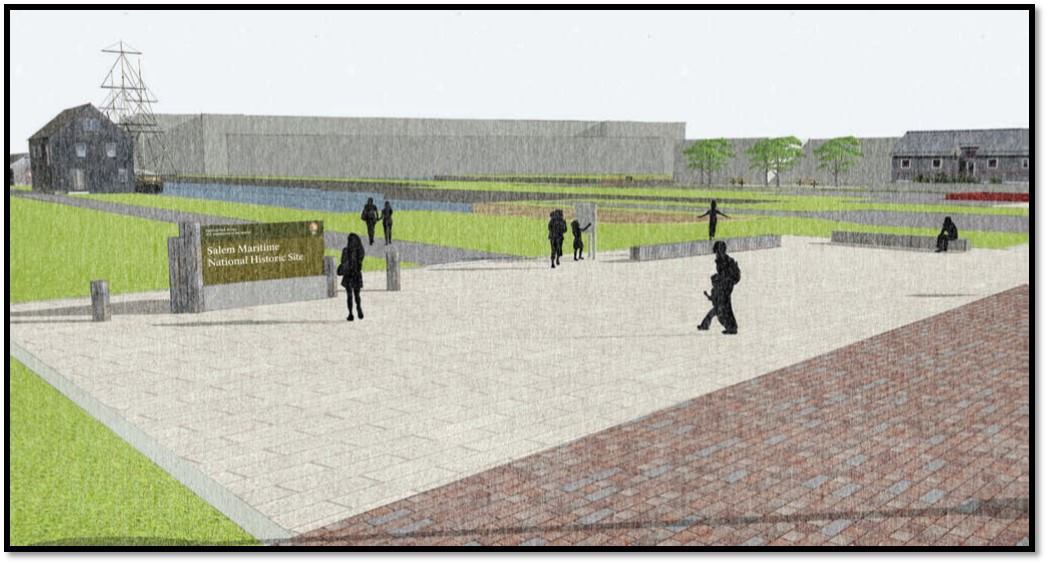 News Release Date:
May 15, 2018
Contact: Gavin Gardner, 978-479-2168
At 6:00 PM on Wednesday, May 16, Salem Maritime National Historic Site will host a presentation to announce the publication of the park's new Cultural Landscape Report in the second floor room of St. Joseph Hall, 160 Derby Street in Salem. A Cultural Landscape Report is a National Park Service planning document that informs treatment and long-term management decisions related to the park's cultural landscape. "This is something that we are very excited about" remarked Superintendent Paul DePrey. "This is a report that sits on my desk to consult on a regular basis, not on a shelf to be ignored."   
The report was developed by Park Service historical landscape architects from the Olmsted Center for Landscape Preservation. This Wednesday evening program offers an opportunity to hear about the future treatment options for the park from the authors of the report. Prior to the 6:00 presentation, visitors are invited to an informal walking tour of the site to discuss the cultural landscape and treatment proposals. The walking tour will leave from in front of the Custom House at 5:00.  
The presentation will include an overview of the Cultural Landscape Report, the work that went into its development, and a discussion on treatment options for different locations around the park. These include the park's landscaping around the buildings and colonial revival garden, improvements to the picnic area, options for a more welcoming entrance to Derby Wharf, and the larger rehabilitation of Derby Wharf due to recent storm impacts and declining conditions. These site wide improvements will work to enhance the historic character of the park while improving the accessibility and sustainability of the site.