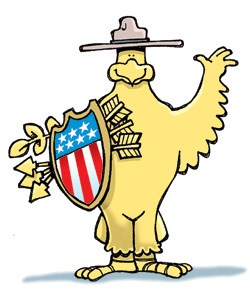 Hi kids! I'm Eglantine the Custom House Eagle. From my perch on top of the Salem Custom House, I see lots of kids visiting Salem Maritime every year.
There are lots of fun things to do at Salem Maritime! Check out the calendar of events to see if there are any family activities scheduled during your visit.

How to Become a Junior Ranger:
Pick up your Junior Ranger booklet at Waite and Peirce, our park store (193 Derby St.).
Explore the site using your Junior Ranger booklet! The program contains questions and activities with the guidance of two helpful Junior Rangers, Basil and Shelly. You can download the Salem Maritime Junior Ranger Program (8.7 MB PDF) right now and use it as you travel though the park. Rangers will be staffing our Historic houses and roving along the wharves if you would like to ask them any questions.
In the course of your journey, find a Ranger to swear you in and give you your Junior Ranger badge.
Return your Junior Ranger booklet to Waite and Peirce and tell our staff what you've learned.
Greetings Future Junior Rangers,
You're about to embark on a very important mission: to become a Junior Ranger! Junior Rangers are very important to our National Parks. Park rangers at Salem Maritime are responsible for the entire park. They're responsible for Derby Wharf, for the Friendship, and for the historic buildings you will find as you explore the park. Park Rangers are also responsible for the people who visit the park – like you and your family.
A Junior Ranger has to learn about Salem Maritime National Historic Site, share this knowledge with other people, and teach others how and why we should care for our special historic places. As a Junior Ranger who cares about Salem Maritime, one of your most important jobs is to help preserve it for the future. Most importantly, have fun on your journey!
Sincerely,
Eglantine the Custom House Eagle


Activities You Can Do at Home:
Sailing a ship requires not only skill and courage, you have to learn lots of new words too! For example, do you know the difference between port and starboard? Here's a hint: in America, we drive on the starboard side of the road.
Can you find other maritime words on our word search?
Download the maritime word search (710 K)
One of the most useful watercraft you could own was a dory. These small rowboats could be used to transport supplies to ships in the harbor, to move people, goods, and even animals up and down rivers, and even to carry on larger schooner ships to help with fishing.
Here's a dory you can cut out and assemble at home - It really floats!
Download dory instructions (2.6 M)
Download cut-and-assemble dory (476 K)