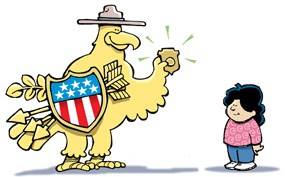 Greetings Junior Rangers,
Welcome to Salem Maritime National Historic Site!
You're about to embark on a very important mission: to become a Junior Ranger! Junior Rangers are very important to our National Parks. Park rangers at Salem Maritime are responsible for the entire park. They're responsible for Derby Wharf, for the Friendship, and for the historic buildings you will find as you explore the park. Park Rangers are also responsible for the people who visit the park – like you and your family.
A Junior Ranger has to learn about Salem Maritime National Historic Site, share this knowledge with other people, and teach others how and why we should care for our special historic places. As a Junior Ranger who cares about Salem Maritime, one of your most important jobs is to help preserve it for the future. Most importantly, have fun on your journey!
Sincerely,
Eglantine the Custom House Eagle