Herman Tyburc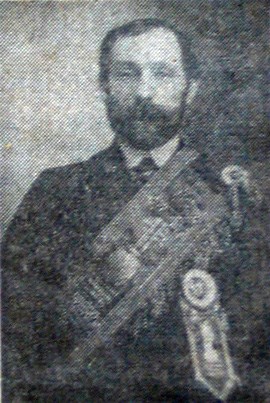 Herman Tyburc was a founding member of the St. Joseph Society in 1899, and he rose quickly into leadership positions in the group, becoming vice president in 1901 and president in 1903. Tyburc's background illustrates the regional, ethnic, linguistic, and national complexities of identity in the first generation of Polish settlement in the U.S.
Born in 1865, he came to the U.S. from Galicia in 1886, in the early stages of a mass migration from the Austrian-controlled part of Poland. Poles in this region were often very poor but also the most culturally cohesive among the three partitions. They constituted the largest regional group of Polish immigrants to the U.S., and the political and cultural strategies developed in Galicia strongly influenced community organizing in their new homes. Although these immigrants often did identify themselves with the Polish nation, their group and cultural identities tended to be more local or regional than national. Herman's grandson recalled that Herman married a woman of Czech or Slovak background and that "it was always said that he was one of the Gorals," a highland people from the Carpathian mountains in south-eastern Poland, northern Slovakia, and the eastern part of the Czech Republic. However, Herman also spoke German, and his German name suggests that he, like many people from the region, may have been of mixed ethnic and linguistic background. "Poland," as an entity, took shape in the minds and hearts of the immigrant communities as much as in political reality in Europe.
Herman established himself in business quite quickly. He came to own at least two leather companies in the area, one named Tyburc Shoes, and he also bought considerable real estate, including several buildings on the lots around the Custom House. Most of these buildings were converted into apartments and rented to Eastern European immigrants; except for the Hawkes House, now a part of Salem Maritime NHS, the buildings were torn down when the park was created in 1938.
Herman seems to have wanted to demonstrate his tremendous success to those in his former home, because between the world wars, during the period of Poland's independence, he returned for a visit, taking his own car with him for a motor tour of Europe. The society page of a Salem newspaper took note of this extravagant trip, reporting that except for a minor accident 175 miles from Berlin, the visit had been without mishap. In later life, Herman lived with a married daughter in Danvers, but would come back to Derby Street to visit the old neighborhood. His grandson recalls him stopping at St. Joseph Hall and then getting a haircut from a nearby barber, "and I would happen to see him and I would go in and talk to him and he'd give me fifty cents and I would go home!"
Back to Salem's Polish Community
Last updated: January 17, 2018