Salem's International Trade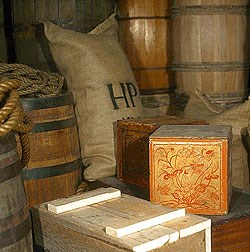 By the end of the 18th century, Salem was one of the leading international trading ports in the United States.
Ships from Salem left from the town's wharves on the way "to the farthest ports of the rich East," as the city's motto states. The goods highlighted on this page are a few of the popular items that were brought to Salem, stored in the
Public Stores
, and sold in shops like the
West India Goods Store
.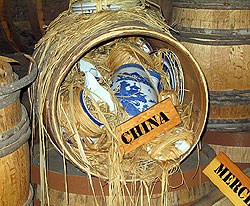 Ceramics
Ceramics were in great demand in the new United States in the form of tea and coffee sets, dinner services, basins and ewers used to hold water for washing, and decorative items, such as vases and canisters. The finest porcelain was manufactured in China, but ceramics made in England, Germany, and France (sometimes with Chinese-style designs painted on them) were often more popular because of their cheaper price.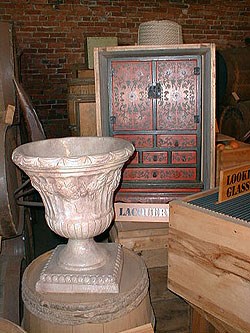 Furniture and Decorative Arts

During the eighteenth and nineteenth centuries Chinese lacquered furniture and decorative objects were highly valued additions to the fashionable American home, adding an exotic touch to its decorations.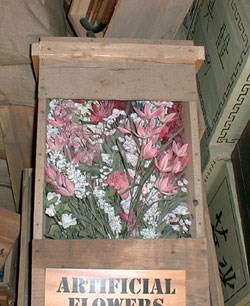 Artificial Flowers

Artificial flowers made of silk were used to trim ladies' bonnets and dresses, as well as to decorate homes. Boxes of artificial flowers were part of the cargo of the brig Britannia that arrived from Malaga, Spain in 1820.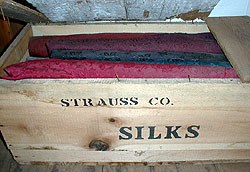 Textiles
Since the first silk came to European markets, it has been one of the most expensive and sought after fabrics for clothing and household decoration. Beginning in 1789, Chinese and Indian silk products imported into the United States were taxed at twenty percent of the original cost, Turkish and European silks at ten percent. By 1842, the Customs duty on most silk imports was thirty percent or $2.50 per pound if not otherwise identified in the tariff schedule.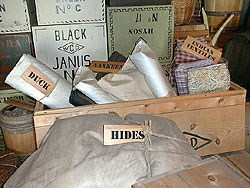 Brightly colored cotton fabric from India was very popular for clothing, as well as bed hangings, window curtains and upholstery. In the eighteenth century, the finest Indian cotton calico (painted cotton fabric) was as expensive as silk. The other two fabrics in the box are nankeen, a heavyweight cotton cloth originally from Nanking, China, used for men's breeches and coats; and duck, another term for cotton canvas.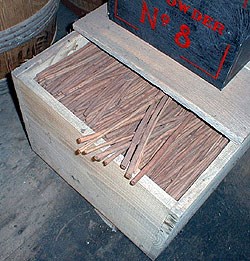 Spices

Cinnamon, a very popular spice, is the bark of the cinnamon tree. Most cinnamon came from Ceylon or Cochin, China (now Vietnam). Spices were some of the most profitable cargo a captain could bring in. Pepper was one of the most sought-after spices.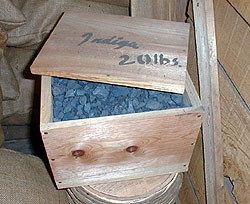 Indigo

Indigo is a deep blue dye derived from the indigo plant. Large quantities were imported from India and the East Indies and used to color homemade fabric as well as the cotton cloth made in local factories in the early nineteenth century.
Last updated: February 26, 2015