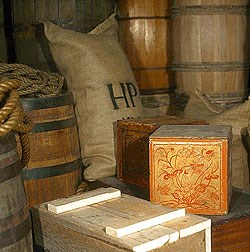 By the end of the 18th century, Salem was one of the leading international trading ports in the United States.
Ships from Salem left from the town's wharves on the way "to the farthest ports of the rich East," as the city's motto states. The goods highlighted on this page are a few of the popular items that were brought to Salem, stored in the
Public Stores
, and sold in shops like the
West India Goods Store
.