Salem's Polish Community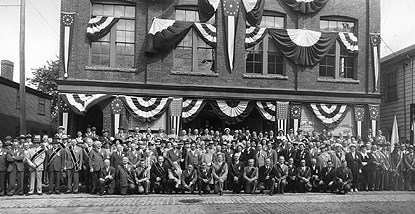 In 1988, Salem Maritime National Historic Site acquired St. Joseph Hall, and thus became the steward of an important piece of Salem's Polish community history. Between 2007 and 2009, the site sponsored a study of Poles in Salem, with a particular focus on the Derby Street neighborhood that surrounds Salem Maritime.
The information on these pages is excerpted from oral history interviews with some members of the community and the final report from the project, In the Heart of Polish Salem: An Ethnohistorical Study of St. Joseph Hall and Its Neighborhood.
The St. Joseph Society and St. Joseph Hall
The three-story brick building at 160 Derby Street known as St. Joseph Hall was built in 1909 by the St. Joseph Society. The St. Joseph Society was founded in 1899, as a branch of the national Polish Roman Catholic Union of America. It was unique among Salem's Polish organizations in constructing its own meeting hall rather than adapting an existing building--a clear statement that Poles intended to set down roots here.
The Society was instrumental in the founding of a Polish Catholic Church in the city, as well as supporting cultural, political, and sports activities, providing space for meetings and social events, and renting apartments on the top floor to those in need of housing. As a mutual assistance organization, it also offered life insurance (and, in its early years, health benefits through the Society's doctor) to its members. The St. Joseph Society and its Hall thus played many roles in helping Polish immigrants and their children adjust to life in the United States and creating a shared sense of ethnic and community identity.
Derby Street: Salem's Polish Neighborhood
As in all Polish immigrant communities, this shared identity was continually debated and involved a great deal of both conflict and celebration. It was forged within homes and families but also--importantly--within the interlocking web of groups and institutions that Poles established in their new homes. Sometimes it took surprising forms, as in this story:
Polish Salem was a much smaller settlement than those in the Midwest (particularly in Chicago), Boston, or other Massachusetts cities. But regional, national, and transnational politics and culture were reflected in Salem's local organizations, along with the specific culture of this small New England maritime city. Learn more about some of these organizations and institutions by visiting:
Among the early leaders and members of the St. Joseph Society were Teofil Bartnicki, Wladyslaw Sobocinski, and Herman Tyburc. Read more about their stories to learn where Poles were migrating from and why.
Next door to St. Joseph Hall was a store built and owned by Polish immigrant Joseph Kohn, who lived above the storefront with his family. Joseph and his wife Hedwiga, were among a new generation of leaders in Polish Salem in the 1920s and later. The neighbors also included the family of Mary Nowak, who came to Salem as a small child and lived here for nearly 100 years. Mary's story includes memories of the 1914 Salem fire, work in Salem's leather and textile industries, and Polish "high culture" in the Chopin Choral Society.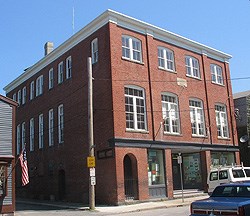 The End of an Era and a New Beginning
St. Joseph Hall fulfilled its role as a community base for many decades. But by the 1980s, the neighborhood around it was no longer primarily Polish, and the dwindling number of Society members, like those of other ethnic organizations in the city, were finding it difficult to maintain their building. In the same decade, Salem Maritime National Historic Site, established in 1938, was undergoing a period of expansion and revitalization. The park was seeking not only additional space but new ways to tell the story of Salem's waterfront area and a way to connect to a set of park neighbors and others who shared long-time memories and associations with the Derby Street neighborhood. When St. Joseph Hall was put up for sale in 1987, the park was able to acquire it. The building has been extensively renovated and was re-dedicated in 2005 at an event that included Polish food, speeches, and dancing to live polka music played by Buddy Walker's Warszawiacki Orchestra, a group that has performed countless times in this Hall and other venues in Polish Salem over more than half a century.

---
In the Heart of Polish Salem
Between 2007 and 2009, Salem Maritime National Historic Site sponsored a study of Poles in Salem, with a particular focus on the Derby Street neighborhood.
The study was designed to help the park better understand that history and to strengthen the ongoing connection with people for whom St. Joseph Hall and the Derby Street neighborhood are a part of their sense of cultural identity. With support from the National Park Service's Ethnography Program, researchers for the study interviewed community members about their memories of the neighborhood, studied materials in archives, museums, and library collections, and pieced together an ethnohistorical account of Polish Salem from the 1870s to the present day.
Last updated: February 17, 2021