Joseph and Hedwiga Kohn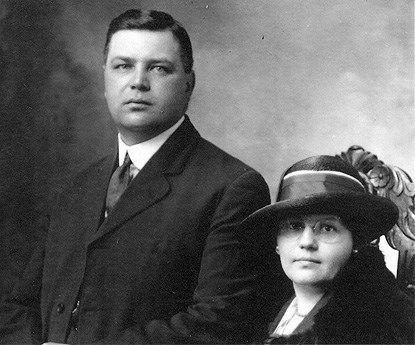 Joseph and Hedwiga Kohn represented a new generation of leadership in Polish Salem, one that combined his self-made success with her inherited status. Joseph had come to the U.S. from the Russian-controlled part of Poland, hiding himself under a load of hay to cross the border and avoid being conscripted into the Russian military. Trained as a shoemaker in an industrial school, he chose to become his own boss in Salem, starting a fruit and vegetable business from a wagon and later upgrading to a storefront operation. He was a widower with two small daughters when he bought the Derby House next to
St. Joseph Hall
in 1911. He built a new structure in front of the Derby House, with two storefronts and an apartment above it for his family, and appears to have become active in Polish community organizations in the city.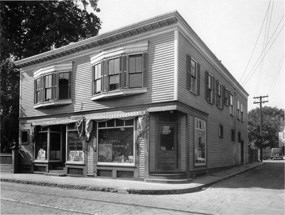 Two years later, he remarried, having fallen in love with Hedwiga (Harriet) Romaszkiewicz, the vivacious young daughter of a prominent Polish American banker from the Boston area. Joseph first saw her reciting a Polish-language poem at a Boston event; after he encountered her again, demonstrating her gymnastic skill at a program sponsored by the fraternal and patriotic Polish Falcons organization, he seems to have been smitten. After their marriage, they lived above the Derby Street stores for many years. The building was later demolished during the creation of the national park so that the historic Derby House behind it could once again be visible from the street.
The Kohns were instrumental in the founding of a local chapter of the Polish National Alliance, another fraternal organization that was something of a rival to the Polish Roman Catholic Union of America of which Salem's St. Joseph Society was a chapter. The Women's Polish American Citizens Club was founded in Hedwiga Kohn's living room, and she was also a very active member of the House of Seven Gables. Her son Chester later recalled spending a great many of his childhood days there. Hedwiga was quite comfortable among wealthy and influential people, having grown up among Polish American elites. She met Polish national heroes like Ignacy Paderewski and Josef Pilsudski, and also encountered the American progressive thinker, teacher, and leading figure of the settlement house movement, while attending a national convention with Gables staff in Washington, D.C. The Kohns' neighbor Mary Nowak recalled that Joe had married into the ranks of the szlachta, or aristocracy--something that was unlikely to have happened to a young shoemaker in partitioned Poland!
Back to Salem's Polish Community
Last updated: January 17, 2018