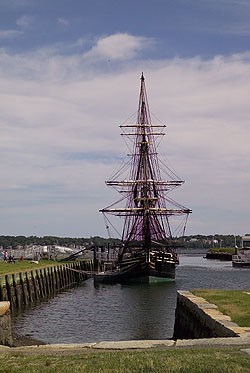 Latest News of Friendship of Salem
Friendship of Salem
left Derby Wharf for a scheduled "haul-out" on July 5, 2016. A haul-out is where a ship is removed from the water to perform inspections, repairs and routine maintenance that are only possible when the vessel is out of the water. Friendship of Salem will be repaired by Boothbay Harbor Shipyard and Gloucester Marine Railways Corporation on Rocky Neck in Gloucester, Massachusetts. When all inspections and repairs are complete she will return. The purpose of this contract is to perform a variety of maintenance, inspection and repair work including:
• Cleaning, inspection, repairs, and painting of the hull below the waterline;

• Painting of portions of the hull and attachments above the waterline;

• Inspection, cleaning and maintenance on propellers, shafts, rudder and other running gear components; and,

• Repair of a deteriorated hull section on starboard side near the base of the foremast.
For the most up-to-date more information please visit our Facebook page.

The Salem East Indiaman Friendship was launched in 1797. She made 15 voyages during her career to Batavia, India, China, South America, the Caribbean, England, Germany, the Mediterranean, and Russia. Built for the Salem mercantile firm Waite and Peirce in the South River shipyard of Enos Briggs, she ended her activities as an American merchant vessel when she was captured as a prize of war by the British Sloop of War HMS Rosamond in September 1812.
The replica of Friendship was built by the National Park Service using modern materials and construction methods while retaining the appearance of the original ship.