The U.S. Customs Service in Salem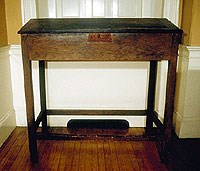 The officers of the Custom House worked for the Collector of Customs.
The Collector was assisted by the Deputy Collector, who was mainly responsible for the record keeping in the port. Third in the chain of command was the Surveyor, who supervised the Inspectors, Weighers, and Gaugers. These officers weighed and measured the cargo entering the port in order to calculate the taxes owed by merchants. Another member of the staff was the Naval Officer, who served in the capacity of an auditor. The Naval Officer assisted the Collector in estimating the duties to be received and kept separate books to verify the accuracy of the transactions.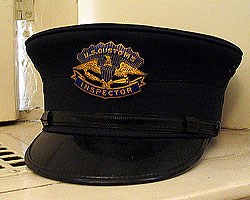 Customs inspectors were authorized to board any vessel to inspect, search and examine to ensure compliance with the laws of the United States. In 1789, Customs inspectors were initially authorized a salary of one dollar and twenty-five cents per day. By 1816, this had increased to three dollars and remained so throughout the Age of Sail.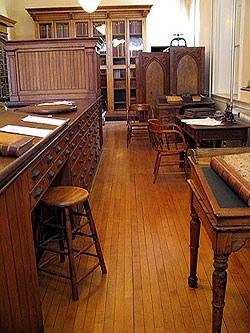 The Collector's Public Office in the Custom House housed the port's records and was the office where duties were paid by merchants and captains. At the large counter, merchants and ship captains would file ship enrollments, crew lists, manifests, and other forms that Customs required. Behind the desk, clerks recorded information related to incoming and outgoing cargos. In the days before photocopying machines, all the information related to a trading voyage had to be copied by hand into large ledgers. Good handwriting was an important skill for an office worker in the nineteenth century.
Last updated: January 17, 2018