The Salem Armory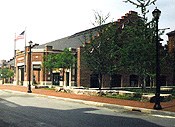 The Salem Visitor Center, located on New Liberty Street in downtown Salem, was originally the Salem Armory.
It was the headquarters and training facility for the Second Corps of Cadets, which traces its history back to the late eighteenth century. In 1982, the beautiful 1880s gothic revival building was nearly destroyed by fire, and the remaining drill shed was converted into the Visitor Center in 1994. The area between the drill shed and the corner of New Liberty and Essex Streets was turned into Armory Park, a park honoring the veterans of Essex County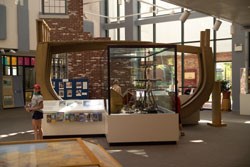 Today, National Park Service staff and volunteers provide information on historic sites and other places of interest throughout the Essex National Heritage Area in the Visitor Center. Visitors can also learn more about the history of Essex County from the exhibits and free orientation film that are available in the center, and purchase books and gifts related to Essex County history in the bookstore that is run by National Park Service partner Eastern National.
Last updated: January 17, 2018