Field Trips
Salem Sets Sail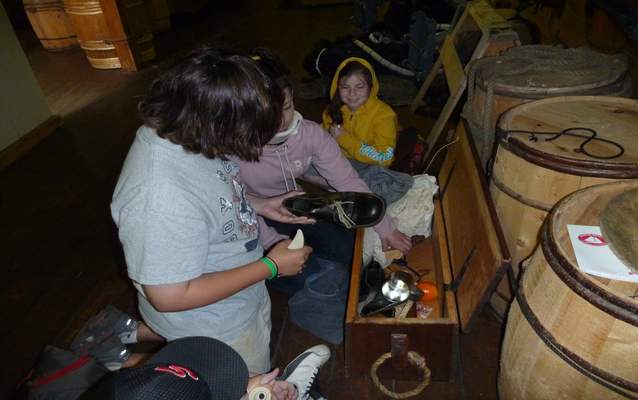 Description
Through hands-on activities and guided exploration on shore aboard the tall ship Friendship of Salem and at sea aboard Schooner Fame, students will discover how the enterprise and daring of Salem's merchants, mariners, and privateers transformed the town from a small fishing settlement into a center of world trade. Students will gain an understanding of the crucial role Salem played in the establishment of America and the growth of the new nation.
Watch this video to learn more about these two vessels and the program.

In this program students will:
·Examine authentic sailors' objects aboard the replica merchant vessel Friendship and draw conclusions about life and work at sea in the 19th century
·Inspect various world trade goods brought to Salem and learn of the importance of world trade in America's economy and lifestyle
·Sail in Salem Harbor on board the replica privateer Fame as a crew member, taking a turn at the tiller, raising sails, and learning to navigate at sea
·Engage in inspiring learning experiences to cultivate a sense of place and a personal connection to one of America's national parks.
Program details and logistics:
Salem Sets Sail is tied to state and national curriculum frameworks in the areas of Social Studies/History and Science and Technology/Engineering.  SSS is most appropriate for students in grades 5-12, but we have served groups of all ages--college, teachers and seniors!  
Maximum number per class: 28 students and 4 adults per class; up to two classes per day.  Cost: $300 per class.  
Dates and times: Available on select dates between Memorial Day-Columbus Day.  Program runs from 9:30-1:00. Picnic tables and restrooms are located on site, but you must take all trash with you. 
What teachers and students have to say:
"Splitting the students up into manageable groups was great. Often times on field trips they children miss out on hands on activities, but this program allowed all of the children to participate and experience the sailing."--5th grade teacher
"I loved it!  The best part was being on the two ships, and seeing the stuff and getting to hold things and participate."--5th grade student
"The students were thrilled that they were able to sail aboard the Fame. It was an experience that many of them had never had before."--5th grade teacher
Contact
Maryann Zujewski
978-740-1662
Details
Subject:

Commerce and Industry, Economics, Entrepreneurs, Geography, Government, Hispanic or Latino American History and Culture, History, Maritime History, Science and Technology, Social Studies, Transportation, War of 1812

National/State Standards:

Massachusetts Grade 5
Economics
12. Entrepreneur
13. Profit
14. Supply and demand
History:
5.11 Maritime commerce
5.33 China trade

type:

Field Trips