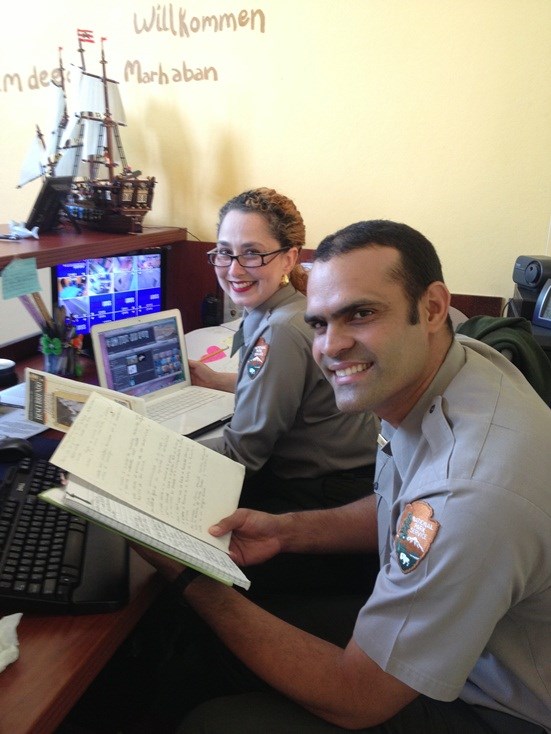 "Descubriendo Tesoros"

is a project for the "Administración y gestión cultural" master's degree at the Universidad de Puerto Rico recinto de Río Piedras developed by Jessica Oppenheimer. This page was made available for this project with permission from the Discovery Center in the Interpretation and Visitor Services Division. The program for children was created using home made movies that could be accessed by QR Codes to educate about history of the fortifications. San Juan National Historic Site does not charge entrance fees for children 15 years old and under and this project will be launched during the first two weeks of June to children participating at a summer camp for residents of La Perla community free of charge. The program consists of a map of San Cristobal with 11 QR Codes at different stations. Every time the children reach a station, with their smart phones or tablets, they'll read a QR Code, watch the movie and follow the clues that will lead them to another station. After the completion of the activity they will have visited almost all areas of the fortification and will have access to information not available in the waysides at the present moment. To capture the attention of the children Mrs. Oppenheimer used sections of music from major Hollywood productions, effects fromhttp://www.ignitemotion.com/and Action Movie effect maker on her personal Ipad. She'll be asking the participants questions before the program, to establish the amount of knowledge they have about the fortifications. Then in 3 months she'll be asking the same questions to the same participants to see how much information they were able to retain. Mrs. Oppenheimer will be presenting the empirical part of her thesis on December 2013 to the NPS and to the Universidad de Puerto Rico.
Under the fair use doctrine of the U.S. copyright statute, it is permissible to use limited portions of a work including quotes, for purposes such as commentary, criticism, news reporting, and scholarly reports. There are no legal rules permitting the use of a specific number of words, a certain number of musical notes, or percentage of a work. Whether a particular use qualifies as fair use depends on all the circumstances. See FL 102, Fair Use, and Circular 21,Reproductions of Copyrighted Works by Educators and Librarians.
Obtained today 5/23/2013 at