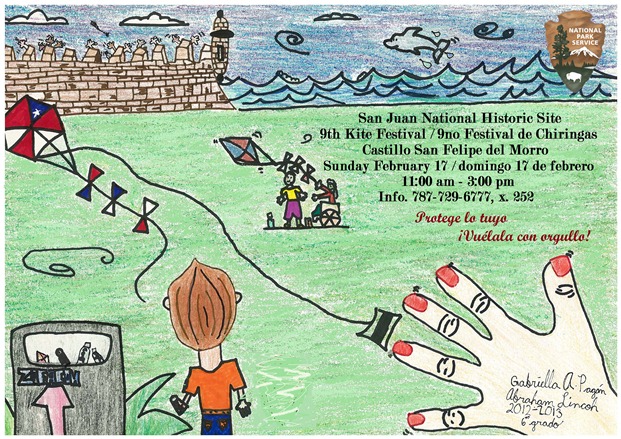 The public is invited to attend and participate in the 9th

Annual San Juan National Historic Site Kite Festival on the historic grounds of Castillo San Felipe del Morro on Sunday, February 17, 2013 from 11:00 am to 3:00 pm.
As kites enthusiasts around the island know, the brisk ocean breeze and beautiful green grounds of El Morro make it a very popular local site for kite flying. Unfortunately, every year the park staff removes tons of litter, kite string and discarded kites from the historic walls and buildings, as well as the Paseo del Morro and San Juan Bay.
This festival is focused at educating the public about this damage to our cultural heritage, as well as the adverse impact of the wildlife in waters of San Juan Bay, while participating in several activities such as kite making to a kite contest.
Through participating environmental organizations and advocates, such as Department of Natural Resources Marine Turtles Program, Sierra Club PR, San Juan Estuary Bay Program and the well-known storyteller Tere Marichal, the public will learn about conserving the resources of their park, while enjoying the many activities scheduled for the Festival. For more information, please call (787) 729-6777, x. 252.