Bald Eagle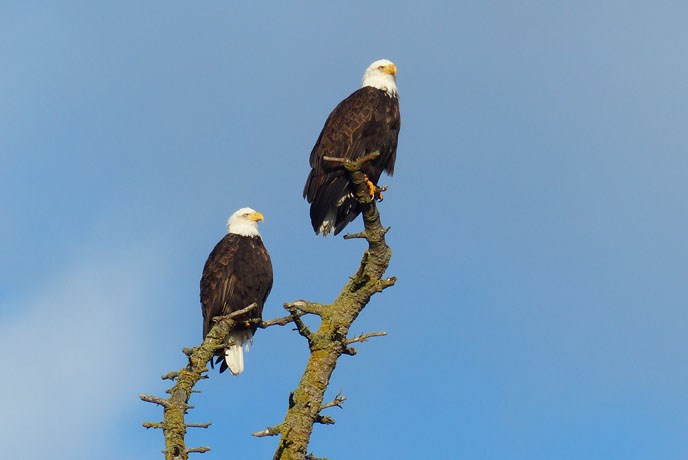 One of San Juan Island's most magnificent sights is a bald eagle in flight. They soar over the island on broad, dark wings and perch atop conifers, Their gleaming white heads (they turn white at about five years of age) are an unmistakable field mark, giving the birds an authoritative air.
With over 125 nesting pairs, the San Juan Islands have one of the highest densities of breeding bald eagles (Haliaeetus leucocephalus) in the lower 48 states. Two breeding pairs are currently nesting at American Camp and one outside the park boundary at English Camp.

While many bald eagles are migratory, there is a resident population as well. Food is abundant here. To the west, the inland sea is rich with salmon and other fish, seabirds, and waterfowl; and to the south, the prairie hosts rabbits, voles and snakes to feed upon. Griffin Bay, to the northeast, offers more opportunities for prey.
More Information
"Comparative Home Ranges and Food Habits of Bald Eagles Nesting in Four Aquatic Habitats in Western Washington," by James Watson, published in Northwestern Naturalist. (Examines the same two nests as below when the rabbit population was low.)
"Food of Nesting Bald Eagles on San Juan Island," published by UC PressCooper Ornithological Society. Reports on two pairs when the rabbit population on San Juan Island was high. In both cases, the eagles were opportunistic and adapted to current prey availability.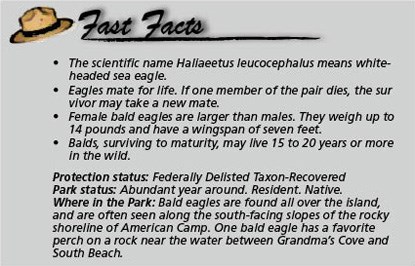 Last updated: March 30, 2015