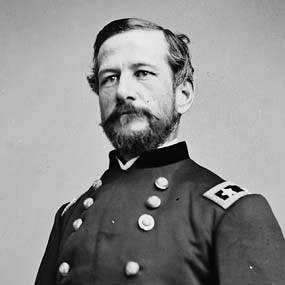 Alfred Pleasonton was born July 7, 1824 in the District of Columbia. As Acting Adjutant General for the Department of Oregon, Pleasonton wrote almost all orders to Capt. George Pickett and Lt. Col. Silas Casey during the Pig War crisis.

Shortly after being given command of the newly organized Union cavalry corps, Pleasonton on June 9, 1863 caught the Confederate cavalry by surprise at BRANDY STATION. The two sides fought to a draw in the largest cavalry battle ever fought in North America.

Promoted to major general, Pleasonton successfully directed his corps at GETTYSBURG July 1-3, 1863. One of the principle reasons for this achievement was Pleasonton's promotion of 21 year-old Capt. George A. Custer to brigadier general. On July 3, 1863, while George Pickett's division was being decimated by the Union line, Custer led several break-neck cavalry charges that foiled an attempt by Confederate cavalry units, under Maj.Gen. J.E.B. Stuart, to attack the Union rear.
Unfortunately for Pleasonton, he was not in the orbit of the newly coined U.S. Army commander, Lt. Gen. Ulysses S. Grant. As a result, on March 25, 1864, he was replaced as head of the Army of the Union cavalry corps by Philip Sheridan. Transferred to the Department of the Missouri, Pleasonton's cavalry performed ably in a campaign against Confederate Maj. Gen. Sterling Price. But while arguing with another Union general over who should receive credit for the victory, Price slipped away to fight another day.

After the war an embittered Pleasonton resigned his regular army commission in January 1868 after former subordinates were promoted above him. He worked for a time for the Internal Revenue Service. He died Feb. 17, 1897.
The town of Pleasanton, CA is named for him.