While At The park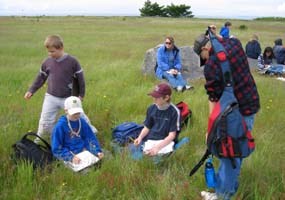 VISITOR CENTERS:
American Camp visitor center: The center contains four cases of artificacts.Three feature objects excavated by the University of Idaho Field School Department of Archaeology Field School during the 1970s. The fourth contains artifacts unearthed by Universaity of Washington field school from the late 1940's to the present. Also on display are photo murals, models and mannequins dressed in 19th century uniforms of the U.S. Army and Royal Marine Light Infantry. (Allow 10-20 minutes)
Royal Marine barracks and blockhouse at English Camp: The buildings are closed to the public September through May, but can be opened by appointment for class visits. Neither structure has exhibits at this time, however a ranger can explain construction techniques and function. (Allow 20-30 minutes)
Slide Show on Laser Disk: View the introductory 12-minute slide show about the Pig War and Joint Occupation. This can also be sent to schools on videotape for viewing before a field trip.
SELF-GUIDED WALKS:
Self-guided walks have been developed for the American Camp parade ground and prairie, the English Camp parade ground and officers' hill and in theJakle's Lagoon/Mt. Finlayson trail network. Each features numbered posts keyed to self-guided walk booklets available in bins at the trail heads or from the visitor center. For large classes, we suggest you access the pdf files available on this site (see American, English and Jakle's Lagoon self-guided walks) print and reproduce them for your class. (Allow one hour)
JUNIOR RANGER WORKSHEETS:
Worksheets that may completed during the visit, at school or home are available at the visitor center or may be printed out from this web site. Completion earns a Junior Ranger Badge presented by a ranger.


Last updated: March 1, 2015