Ranger Guided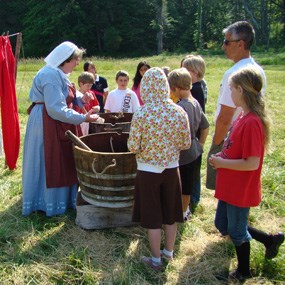 There are several options for your class during your field trip to San Juan Island NHP
Ranger Programs: Introductory Talk with Ranger: We request that all school groups listen to this ten minute talk that includes a short introduction to the San Juan Island National Historical Park story and the National Park Service, and guidelines for safety and protection of park resources.
The Pig War: Conflict and Consensus: Using the Pig War Story as background, a ranger discusses the importance of arbitration and mediation in solving disagreements at school and home. Depending on grade level, the program also includes exhibition and discussions of 19th century objects used by the soldiers and marines, including food, cooking utensils, clothing and tools. May include demonstration of 19th century tools.
The Pig War Teachers' Resource Guide and Traveling Trunk: This activity provides an outstanding pre-visit activity. Many schools send for the trunk, use it in the classroom and then return it along on the field trip.
Archaeology Programs at English and American camps: A ranger discusses the ancient cultures that once inhabited the grounds at English Camp and the meanings of what they left behind. About 30 minutes, either outdoors or in the Royal Marine barracks in case of inclement weather. A ranger also utilizes the collections on display at American Camp to talk about the importance of safeguarding archaeological resources. About 15 minutes. The latter program may be tacked onto the end of the Pig War or Jakle's Lagoon programs. Habitats at Jakle's Lagoon Nature Walk.

Jakle's Lagoon Nature Walk: San Juan Island National Historical Park protects and preserves a variety of habitats. From the forests of English Camp and Jakle's Lagoon, to the sandy shores and waters of South Beach, to the prairie of American Camp, these habitats support a diversity of life. Students will learn the concept of habitats and how different habitats support varied species and provide what those species need to survive. They will gain an understanding of habitats as the essential components of ecosystems that contribute to bio diversity. Students also will become aware of the threats to those ecosystems and the species they support. The tour includes pre-visit, on-site and post-visit activities (see below). (90 minutes)
Fourth Grade Field Day: Each year the fourth grade classes from Friday Harbor Elementary gather at English Camp for a morning of activities that include the archaeology talk, a hands-on pioneer woodworking skills demonstration and field games played by the Royal Marines and U.S. Army soldiers. With plenty of notice the program is available to off-island schools as well. (Two hours)


Last updated: March 1, 2015