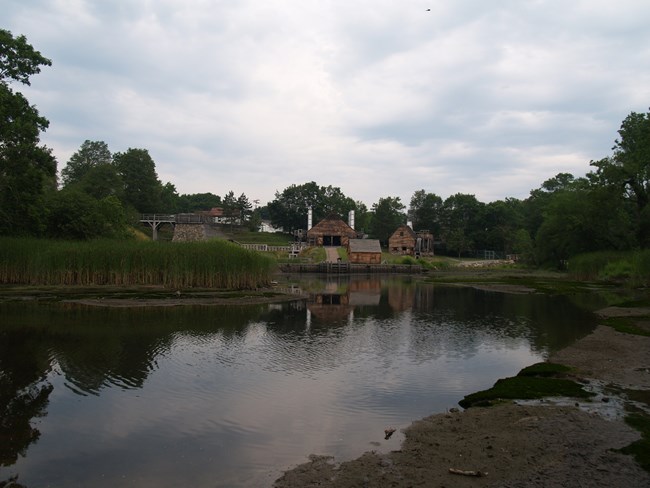 The cultural and natural resources within Saugus Iron Works National Historic Site are important in interpreting the story of how 17th century European settlers adapted their lives to succeed in the building of Colonial America. Today, these resources are under constant threat.
The Saugus River is perhaps the most significant natural and cultural resource within the historic site, and, in turn, the most sensitive resource to environmental change. Water pollution, human development, and the introduction of non-native invasive plants and animals have changed this unique river over the last three and a half centuries. Park staff at Saugus Iron Works are working closely with other government agencies and local organizations to monitor the health of the Saugus River and its watershed.

Currently, sixteen species of non-native invasive plants can be found within the historic site. Phragmites, purple loosestrife, Norway maple, and multiflora rose dominate many areas of the historic site. These invasive plants, along with many others, outcompete native plant species for space, light, and food. This, in turn, changes the biodiversity and habitat of the natural resources here. The non-native invasive plants found within the historic site today never existed in Massachusetts before the 17th century. The majority of these plants were brought here from Europe and Asia as settlers continued to arrive and develop the land. The historic site is also home to some animal pests, such as carpenter bees and ants. These insects threaten the cultural resources, by damaging the wood of the historic buildings. Park staff at Saugus Iron Works are currently surveying, monitoring, and, if necessary, reducing or eliminating populations of non-native invasive plant and animal species using established pest management guidelines approved by the National Park Service.