Saugus River and Nature Trail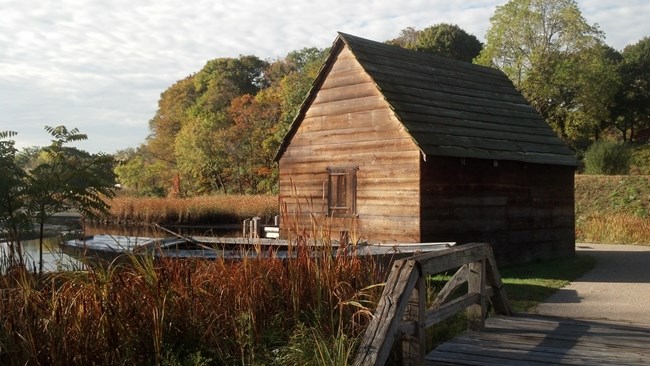 Saugus River
The Saugus River was the key to the operation of the iron works here. Water was needed to run the wheels that powered the machinery in each building. The river was dammed upstream in the 1640s to create a large reservoir. A canal brought water from the reservoir to a holding pond that existed on the higher ground behind the forge building. Sluiceways brought water from the holding pond to each building, where it turned water wheels powering bellows, the trip hammer, and the rolling and slitting machinery.
The river was very helpful to the iron works in another way as well. This portion of the river is close enough to the ocean that is influenced by the tides. When the tide was high, workers were able to get shallops (shallow bottomed sailboats) up to the dock. This let them bring in raw materials and ship out finished and semi-finished products. This is a luxury that a lot of later iron works in North America did not have. The building by the dock was a warehouse for storing goods that were ready for shipment.
Nature Trail
Today, the Saugus River provides a recreational opportunity for visitors to the Saugus Iron Works. Explore the wilder side of our park along our nature trail. The trail starts near the blacksmith shop and follows the eastern bank of the Saugus River for around 1/4 of a mile. While on the nature trail, keep an eye out for different species of trees and other plants. The nature trail is also a nice place for birding, especially in the spring and fall. You can help monitor the wildlife in the park by telling rangers at the Visitor Center what species you have seen.
Places at the Saugus Iron Works
Last updated: October 15, 2016