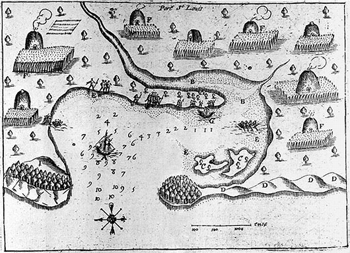 Before European settlers came to the area surrounding modern-day Saugus, there were groups of native people living there who were known as the Pawtucket. By the time the iron works began, the Pawtucket way of life had been forever changed. Conflict between other native groups had already weakened their numbers. When Europeans started coming to New England, they brought diseases that the Pawtucket had never known. Shrinking communities of native people were wiped out by illness or pushed off their lands by European settlement.

At the time the iron works was in operation, a woman known only as "Great Squaw Sachem" led the Pawtucket community. Her husband, Nanepashemet was a well-known leader who had been killed in an enemy raid. After his death, because their sons were still children, Great Squaw Sachem succeeded Nanepashemet. It was not uncommon for a woman to take the lead as sachem after her husband died. Our squaw sachem had several contemporaries; three in Connecticut, two in Rhode Island, and one in Massachusetts. However, it was uncommon for a woman to be given this authority in Puritan society. The first colonists may have been shocked by this practice. The Great Squaw Sachem led her people at a particularly difficult time known as the contact period, and saw many troubles.

As the native population decreased and the European population increased, many were forced to assimilate to survive. They took English names, and began to dress like the colonists. They could no longer move freely on their old lands to hunt or fish. The English brought new types of animals like horses, sheep, goats, pigs, and cattle that roamed free and ate Pawtucket crops. Because they could no longer live off the land, some made a living by working for the English. At least two Pawtucket men were paid to cut wood for the iron works, Thomas and Anthony. The availability of iron tools, and other metals introduced by the colonists changed the way Native Americans worked. Iron tools were stronger, and available for trade. The day-to-day life of the Pawtucket would never be the same.

Eventually, native leaders made land treaties with the English even though they often did not get much in return. They may have felt that these treaties would help protect their people from enemies by allying themselves with the English. By the time of her death, the Squaw Sachem had sold all of her people's land except for a small parcel west of the Mystic Lakes. She lived out her last days there, which led her to be known as "Queen of Mysticke" to some. When she passed, this last piece of land was left to a Puritan man, Jotham Gibbons.