Blacksmith Shop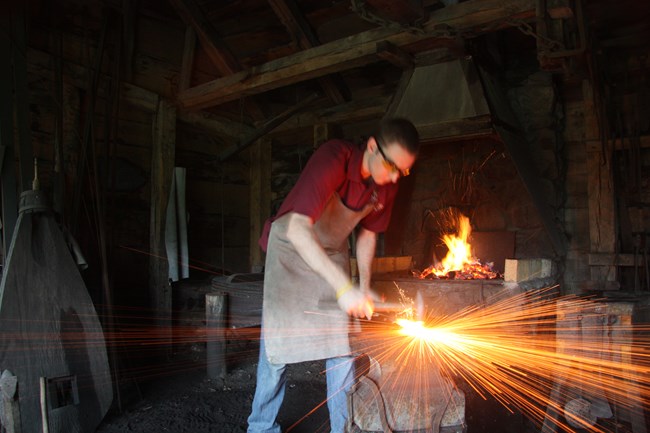 A blacksmith shop is where semi-finished products from the forge and the rolling and slitting mill were turned into finished products. The blacksmith shop on this site, however, did not make products for sale. It was more of a maintenance shop for creating tools and materials needed for the operation of the iron works.
There was another blacksmith shop on the property established by Joseph Jenks in 1646. It was located near the slag pile, and used water from the tail race of the blast furnace to run its water wheel. This building was not reconstructed, and the area where it was is currently marsh habitat.
Jenks is credited by the United States Patent Office with having the first machine patent in what would eventually become the United States. He had a patent to "... Build a Mill for making of Sithes; and alsoe a new Invented Saw Mill, and divers other Engines for making sorts of edge tooles; whereby the Country may have such necessaries in short time at farre cheaper Rates then now they can ..." (From Massachusetts Archives, vol. 59, Office of the Secretary of the Commonwealth, State House, Boston, Mass.) Jenks also used his shop to draw fine wire for making brass pins and other products.
Places at the Saugus Iron Works
Last updated: October 19, 2016