Group Tours at the Theodore Roosevelt Home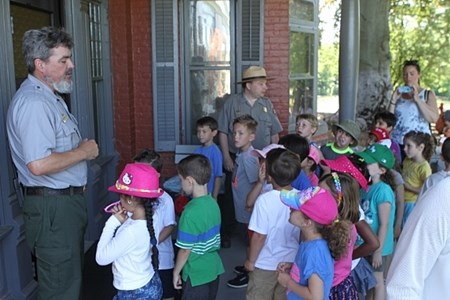 Due to COVID-19 restrictions, we are not offering group tours at this time.

Visitors who desire to schedule group tours at the Theodore Roosevelt Home can now do so at Recreation. gov.

Reservations are available on line or by calling the toll-free call center at (877) 444-6777. School tours can be scheduled on Wednesdays, Thursdays, and Fridays at 10:30 a.m. Non-School tours can be scheduled on Saturdays and Sundays at 10:30 a.m. All groups must have a reservation for a specific date to receive a house tour. The scheduled tour will accommodate up to a maximum of 60 students per reservation. The park requires one chaperone per fifteen students, with a maximum of four chaperones per reservation (a maximum of 60 students and four chaperones).
When you are ready to book your reservation, you must create an account and sign in. Then, when visiting the reservation website, please select the 'School Tours' option on the 'Sagamore Hill National Historic Site Tours' page, select the "switch to group sales" option. From the Tour List, choose the "Group Tour of Theodore Roosevelt's Home for Educational Institutions" option,where educators will be able to view a calendar displaying school tour availability for selected dates. A $10 reservation fee applies for each tour.
For additional questions regarding reservations and online reservation technical issues, please call (877) 444-6777.
For questions regarding school tours and visits to Sagamore Hill, please call (516) 922-4788.
Last updated: July 8, 2021