Outdoor Children's Camps at Saguaro National Park
Rincon Mountain District (East) Summer and Astronomy Camps
Junior Ranger Summer Day Camp
Another way kids can become Junior Rangers at Saguaro National Park is by participating in one of our Summer Junior Ranger Camps. In this camp children will experience the desert by learning about the animals native to our desert home, the importance of water, how to hike safely in the desert, interactive games and activities and much, much more. The camp allows children to explore the park outside in the morning in the cooler temps and then move inside to learn more about these prickly plants and the crafty critters that make the park home. Children will be led by staff on this exploration while completing activities in their Junior Ranger Journal. At camp's end, they will be sworn in as official Junior Rangers

For additional information, including application forms, please visit our Junior Ranger Camp - East District page (https://www.nps.gov/sagu/planyourvisit/junior-ranger-camp-east-district.htm) or contact park staff by calling (520)733-5153.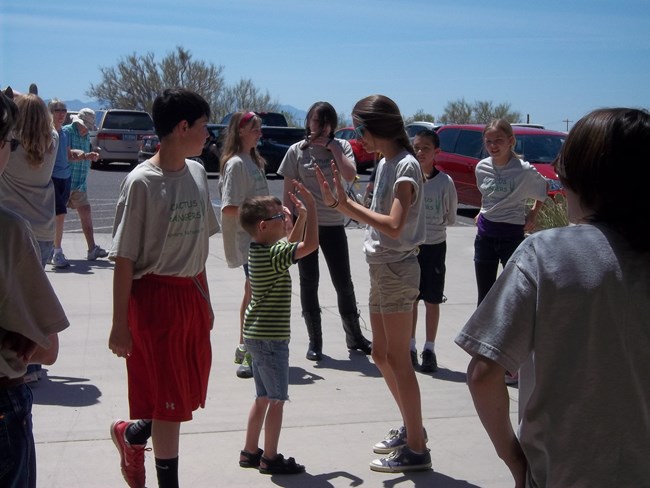 Astronomy Camp
For Kids 8-12
TBD, 2019 3- 9p.m.
Saguaro National Park staff and volunteers from the Tucson Amateur Astronomy Association will host a half day learning experience, including night time telescope viewing, for children 8 - 12 years old. Topics to be covered include our solar system, black holes, alien worlds, space pioneers, the history of astronomy, star legends and lore, and the operation of telescopes -- all through fun, hands-on learning experiences. A $15 per person fee is payable on the day of camp. Space is limited and advance reservations are required. Call (520)733-5153 to register.
Tucson Mountain District (West) Wilderness and Explorer Camps

These 3-day and 1-day Wilderness Camps for youth 11-14 years old are offered at scheduled times through the year.
These camps offer a variety of fun, hands-on activities such as hiking, exploring, map and compass reading, learning how a GPS helps you navigate through the desert, checking caves and burrows for tortoises and Gila Monsters, and an exhilarating night hike through the magic of the desert after dark. Participants will also learn how to pick a camp site, pitch a tent, cook with a backpack stove, understand hiking safety, and Leave No Trace land use ethics. A high value is also placed on unstructured down time as well where participants chat, eat, and snooze at their "campsite". The camp finishes around a campfire, sharing stories of the adventures discovered during the camp. Each camp experience is structured to be age appropriate and to encourage young people to explore the desert, learn about nature, and have fun in the great outdoors. The ultimate goal is to provide young people with a sense of stewardship for not only National Parks, but for nature and the environment on a global scale as well.
Every evening 30 minutes before pick up we will have a camp fire, hot chocolate, and marshmallows for roasting available while you wait for your child. The view is beautiful, the stats are plentiful, and coyotes may be howling.

Space is limited and reservations are required. Limited scholarships may be available.
---
Explorer Camp
When: October 13 & November 24, 2018, January 19 & March 23, 2019
Please click on our Explorer Camp Information and Guidelines to see if this program is a good fit for your camper. If you would like to sign up, please e-mail us

Explorer Camp Information
Wilderness Camp
When: December 27-29, 2018, February 21-23, 2019
Please click on our Winderness Camp Information and Guidelines to see if this program is a good fit for your Junior Ranger. If you would like to sign up your Junior Ranger, download the Registration Form and Parent Approval & Medical Authorization Form found below. If you would like to sign up, please e-mail us

DECEMBER Wilderness Camp Information
FEBRUARY Wilderness Camp Information
Please feel free to contact Ranger Chip Littlefield at 733-5157 or e-mail us
Last updated: February 8, 2019