Outdoor Children's Camps at Saguaro National Park
Saguaro National Park offers opportunites for youth to get outside and learn about the Park in their backyard through camps. Explore our camp options below.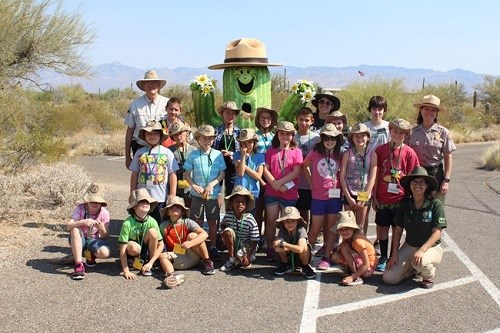 Rincon Mountain District (East) Camps
Junior Ranger Summer Day Camp
Another way kids can become Junior Rangers at Saguaro National Park is by participating in one of our Summer Junior Ranger Camps. In this camp children will experience the desert by learning about the animals native to our desert home, the importance of water, how to hike safely in the desert, interactive games and activities and much, much more. The camp allows children to explore the park outside in the morning in the cooler temps and then move inside to learn more about these prickly plants and the crafty critters that make the park home. Children will be led by staff on this exploration while completing activities in their Junior Ranger Journal. At camp's end, they will be sworn in as official Junior Rangers

For additional information, including application forms, please visit our Junior Ranger Camp - East District page or contact park staff by calling (520)733-5153.
Tucson Mountain District (West) Camps
1-day Explorer Camps and 3-day Wilderness Camps for youth 9-13 years old are offered November through March.
These day camps offer a variety of fun, hands-on activities such as hiking, exploring, and an exhilarating night hike through the magic of the desert after dark. Participants will learn how to pick a camp site, pitch a tent, cook with a backpack stove, understand hiking safety, and Leave No Trace land use ethics. A high value is also placed on unstructured down time as well where participants chat, eat, and snooze at their "campsite". The camp finishes around a campfire, sharing stories of the adventures discovered during the camp. Each camp experience is structured to be age appropriate and to encourage young people to explore the desert, learn about nature, and have fun in the great outdoors. The ultimate goal is to provide young people with a sense of stewardship for not only National Parks, but for nature and the environment on a global scale as well. Campers do not stay overnight.
Every evening 30 minutes before pick up we will have a camp fire, hot chocolate, and marshmallows for roasting available while you wait for your child. The view is beautiful, the stars are plentiful, and coyotes may be howling.

Space is limited and reservations are required. Scholarships for financial assistance may be available.
---
Explorer Camp | 1-day ages 9-10
When: All Camps postponed due to COVID-19. Check back for updates. Typically offered in November and March
Fee: $20
Wilderness Camp | 3-days ages 11-13
When:All Camps postponed due to COVID-19. Check back for updates.
Typically offered in December over winter break and February during Rodeo Break
Fee: $50

For more information and to register, please email Ranger Heather Taylor
or call (520)733-8614
Last updated: October 15, 2020