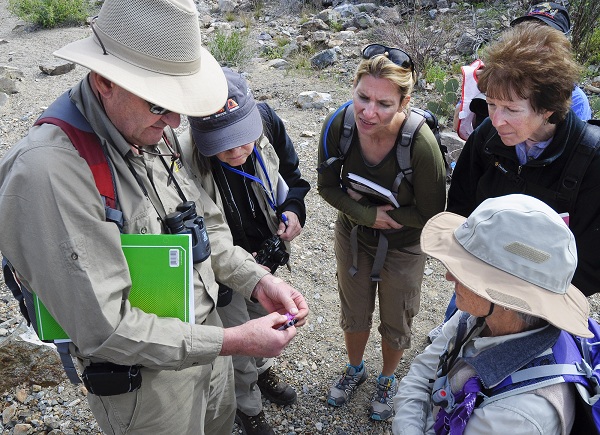 News Release Date:
March 27, 2015
Contact: Andy Fisher, (520) 733-5139
Tucson, AZ – On March 7, Saguaro National Park held a winter wildflower Bioblitz.Over 100 enthusiastic individuals participated in seven botanist led guided hikes across the park and identified 99 species of winter annual flowering plants. Eighty-three species of flowers were identified in the Tucson Mountain District (west) and 59 species were identified in the Rincon Mountain District (east).
"The show of public support and enthusiasm for the project was impressive and we would like to thank all those who contributed to the data collection," according to Andy Fisher, Chief of Interpretation.
Within the nearly 100 species were two plants not previously known to be in the park, including western tansy mustard (Descurainia pinnata ssp. ochroleuca) and western marsh cudweed (Gnaphalium palustre). The University of Arizona is assisting the park by confirming the identity of these two new plants.
In addition, the park was able to officially list another species which had been known to exist but had not yet been added to the park herbarium collection. Matthiola parviflora, is highly invasive and park staff and volunteers have been actively removing it through the weed-free trails initiative. 
Because the Bioblitz was focusing on winter annual flowers, there were many other flowering perennial plants such as bahia, larkspur, and globe mallow, which were also beginning to bloom but were not counted as part of the one-day survey.
"It is not too late to appreciate the beauty of this season's flowers," added Fisher. "There are more species coming into full bloom within both the east and west districts of the park, right now."
The staff encourages the public to come out and enjoy some colorful landscapes, to bring their cameras to capture the rainbow of colors available now, and share them on the park's Facebook and Instagram with the hashtag #SaguaroNPS
For more information about Saguaro National Park and the public programs offered daily, visit www.nps.gov/sagu.