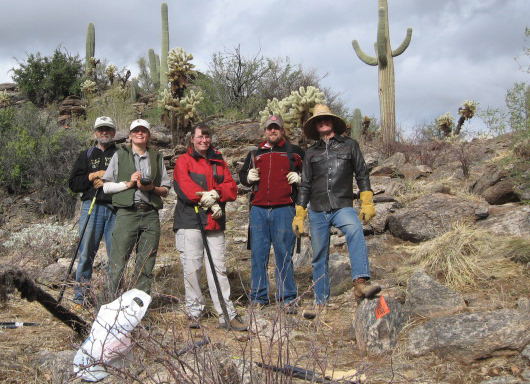 News Release Date:
September 10, 2014
Contact: Eric Lassance, (520) 733-5187
Tucson, AZ - On Saturday, September 13th, Saguaro National Park will host a work project to remove patches of buffelgrass, an invasive non-native plant threatening the Sonoran Desert.
Interested volunteers should meet at the park's Rincon Mountain Visitor Center (east) at 7:00 am. Please park in the Administration parking lot (first right turn south of the visitor center parking lot). From the visitor center, park staff and volunteers will carpool a short distance to the work site and hike off trail to the buffelgrass location.
Please wear sturdy toe-closed shoes, long pants and a hat. Bring water and gloves (if you have them). Tools and additional gloves will be provided. Volunteers will be working with park staff, and will conclude the day's efforts around 11:00 am.
This event is one of the several buffelgrass weed whacking groups in the greater Tucson area. The second Saturday from November - March meeting times are at 8:00 am. April - May and September - October meeting times are at 7:00 am. If interested or have any questions, please call Eric Lassance at (520) 733-5187 or at e-mail us.
For more information about buffelgrass, Beat Back Buffelgrass Day, or other buffelgrass pull events, please visit www.buffelgrass.org.
When: Saturday, September 13, 7:00 am
Where: Rincon Mountain District (east), 3693 S. Old Spanish Trail
Bring: Water bottles and gloves
Wear: Closed toe shoes, long pants, hats, and sunscreen